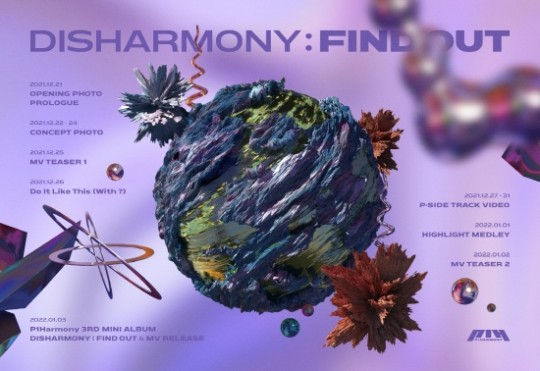 Kpop group P1Harmony (Keeho, Theo, Jiung, Intak, Soul, and Jongseob) is returning with a new album with the metaverse worldview '+WORLD.'
FNC Entertainment unveiled a plan poster for the new album 'DISHARMONY: FIND OUT,' set for release on January 3 next year, through their official social media channel on December 20.
In fact, the published poster draws attention with artwork that uniquely embodies a world. P1Harmony announced the existence of '+WORLD' in the metaverse world with the previously released character film. So, this album foreshadows a completely new world, raising curiosity.
P1Harmony will release comeback promotional content sequentially starting from December 21, beginning with the opening photo and prologue. So, various promotional contents are prepared sequentially until January 3, next year, the comeback date. They will release concept photos, MV teasers, Do It Like This (With ?), a P-SIDE track video, and the highlight medley.
Through the 3rd mini-album, 'DISHARMONY: FIND OUT,' Kpop group P1Harmony leads us to a new world with infinite possibilities. This album is the last trilogy in a series dealing with the problem of 'DISHARMONY,' released so far. It tells us to become the owner of a new world (+WORLD) and dream of infinite possibilities.
All songs and the music videos of P1HARMONY's new album 'DISHARMONY: FIND OUT' will be out on various music sites at 6 pm on January 3, next year.
Read More About: AleXa Heats Up The Comeback Fever With The Release Of Her New Logo
'kpop group P1HARMONY
,
2021 kpop news
,
2021 kpop news updates
,
2021 news kpop
,
best kpop news site
,
breaking news kpop
,
BTS trending news
,
daily kpop news
,
Korean celeb news
,
KPOP
,
Kpop artist
,
Kpop artists
,
kpop celebrity news
,
Kpop chart and news
,
kpop daily news
,
Kpop idols
,
Kpop latest news
,
Kpop news
,
Kpop news articles
,
Kpop news sites
,
kpop news update
,
kpop P1HARMONY
,
Kpop recent news
,
Kpop trend
,
Kpop trending
,
KPop trending news
,
Kpop trending now
,
kpop trending update
,
KPOP2021
,
KPOPIDA
,
KPOPNEWS
,
p1harmony
,
p1harmony comeback
,
P1HARMONY KPOP
,
P1HARMONY members
,
P1HARMONY news
,
Trending
,
trending 2021
,
trending kpop
,
Trending Kpop news
,
trending kpop update
,
trending news
,
trending update kpop