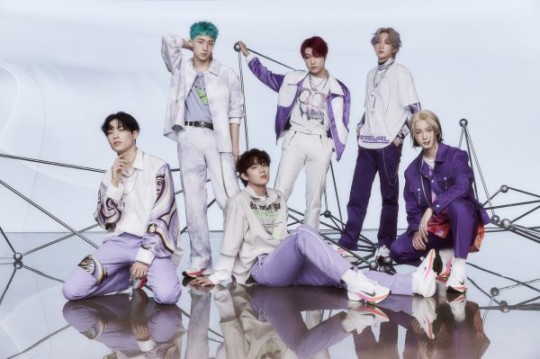 K-pop group P1Harmony (Keeho, Theo, Jiung, Intak, Soul, and Jongseob) has once again recorded its own highest Initial first-week sales record and continues to grow rapidly. According to Hanteo Chart, the largest record sales site in Korea, the new album 'DISHARMONY: FIND OUT' recorded the Initial first-week sales of 86,000 copies. It includes the album sales figures for a week as of the release date.
With their second mini-album, 'DISHARMONY: BREAK OUT' (sold 27,000 copies), released in April of last year, P1Harmony, which set the Initial first-week sales record, which increased six times compared to the previous album, surpassed the previous record in just two days with this third album. It showed the performance of recording Initial first-week sales more than three times.
Accordingly, many foreign media are paying attention to P1Harmony's activities. The British newspaper 'The Sun' published an article titled 'P1Harmony's latest album tops sales charts.'
The media dealt with P1Harmony's achievements this time in detail.
"K-pop group P1Harmony started the year significantly with its new album. The new album surpassed previous album sales in the first week, breaking a new sales record," the media said.
In addition, TIDAL, a global music streaming service, introduced the title track 'Do It Like This' and the sidetrack 'Peacemaker' of the new album, 'DISHARMONY: FIND OUT' on a playlist titled 'Rising: K-pop.'
Amid fierce K-pop competition, P1Harmony took over the cover and showed its potential as a rookie idol.
P1Harmony released its third mini-album, 'DISHARMONY: FIND OUT' on January 3. It topped three pop albums in nine regions worldwide on iTunes upon its comeback. All album songs have entered the rankings on the US iTunes KPOP music chart. Also, P1Harmony caught the attention of Teen Vogue, a famous US magazine. It introduced P1Harmony's music as the best new song for the week.
Read More About: Chanwon Lee 'Cheer Up' Concert Live Clip Surpasses 2 Million Views
best Kpop girl group
,
best kpop news site
,
best kpopstar
,
breaking news kpop
,
daily kpop news
,
Fandom
,
Hip-hop Idol JIN
,
Jin
,
JIN news
,
Korean celeb news
,
Korean singer
,
Korean singer songwriter
,
KPOP
,
Kpop album
,
Kpop beauty routine
,
Kpop boy group
,
kpop celebrity news
,
Kpop chart and news
,
Kpop colllaboration
,
KPOP comeback
,
Kpop current news
,
kpop daily news
,
Kpop fashion
,
Kpop girls group
,
kpop idol JIN
,
Kpop idols
,
Kpop issues
,
Kpop latest news
,
Kpop music chart
,
Kpop news
,
Kpop news articles
,
Kpop news sites
,
kpop news update
,
Kpop recent news
,
Kpop skin care routine
,
Kpop skincare routine
,
KPop trending news
,
KPOPNEWS
,
Singer JIN
,
South Korean singer songwriter
,
the best kpop girl group
,
the best kpop girl group of 2021
,
the best kpop group of 2021
,
the top kpop group
,
top kpop boy group
,
top kpop girl group