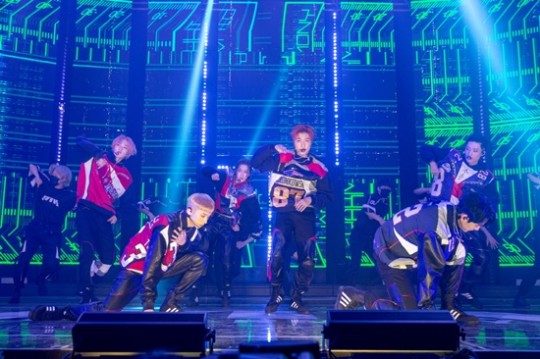 P1Harmony made a comeback in the music industry with upgraded music and performances.
On the afternoon of the 20th, a showcase to commemorate the release of the second mini-album, 'DISHARMONY: BREAK OUT,' which took place at Blue Square in Yongsan-gu, Seoul.
P1Harmony debuted in October last year. They attracted the attention of music fans with the brilliant performance, energy, and ambition of all the members, born in the 2000s. Then, P1Harmony returned after six months. They caught the eye of the fans with more upgraded skills and experience. They also expressed relaxed stage manners than ever before.
As they started their second comeback activity, they showed off their improved skills. P1Harmony said, "We feel that we have more know-how and skills than before. In the past activity, we were nervous on the stage, and there were many immature points. But in this activity, we tried to compensate for those appearances and show a professional stage presence." They showed their extraordinary determination.
The title song 'Scared' contains a message of courage to those who have given up breaking out from the unfair life. It also encourages those who have given up on getting out of the unfairness by saying, 'Trust in yourself, don't be scared, and speak out.' Particularly, they performed just like an American football performance that stood out with dynamic and powerful energy to the song.
The reason why P1Harmony chose the American football theme, was the "challenge spirit". Jong-seob explained, "The American football itself is a way to reach the desired destination and touch down. But we thought it fits the message of 'I'm scared.' It felt very cool, so we chose American football."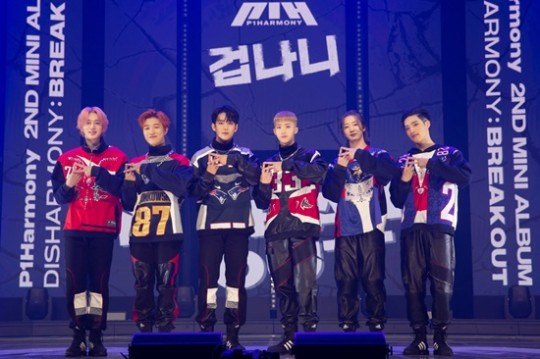 Those who made efforts to develop in line with their new comeback activities also showed their affection and respect for SF9. SF9 is their senior group of FNC Entertainment, their agency. P1Harmony said, "SF9 seniors are so cool, and we want to follow their paths."
Intak smiled, "I thought it was very cool while watching the 'Kingdom' stage in which SF9 seniors appeared. Particularly, I followed the appearance of Taeyang senior showing off his legs. I always support SF9 seniors."
Soul followed, "SF9 seniors are tall, handsome, and sexy. I want to imitate, but I can't imitate the sexiness. SF9 seniors have their own colors, so they are so cool."
Besides, Soul said, "I often meet SF9 seniors in the practice room. You always support me and give me a lot of love, so they are also supporting us."
They said that they cheered on other groups growing together. At the same time, with the idea that they were friends in the music industry, rather than thinking of them as good-intentioned competitors. Also, they said, "We published the songs in which the members of P1Harmony participated in the lyrics. I want to express better the message we want to convey."
Finally, P1Harmony stated that the was aiming for the Rookie Award this year. They expressed determination, "I hope that our song will be known to many people around the world. We want to show a good image because we upgraded our team colors and strengths."
On the other hand, P1Harmony's second mini-album, 'Disharmony: Breakout,' will be released on various online music sites at 6 pm on the 20th.
Read More About: WJSN Completed Their Comeback Showcase
2021 kpop
,
2021 kpop news
,
2021 kpop news updates
,
2021 kpop updates
,
2021 updates on kpop
,
KPOP
,
Kpop 2021
,
Kpop artist
,
Kpop artists
,
Kpop boy group
,
Kpop idols
,
Kpop news
,
Kpop trend
,
Kpop trending
,
KPop trending news
,
Kpop trending now
,
KPOP2021
,
KPOPIDA
,
KPOPNEWS
,
Kpopstars
,
p1harmony
,
p1harmony comeback
,
sf9
,
Trending
,
trending 2021
,
trending kpop
,
Trending Kpop news
,
trending kpop update
,
trending news