Kpop group ONEUS will host a solo concert after a year since their last performance. On October 7, at 6 pm, ONEUS released a poster for their solo concert 'ONEUS THEATRE: BLOOD MOON' on their official social media accounts.
The released poster attracts attention with a picture of the moon dyed red. It raises curiosity about the hidden meaning of the clouds, flowers, and moon paintings that seem like painted with ink. Notably, they revealed the concert's title for the first time. So, people are looking forward to how the special project 'ONEUS THEATRE' of ONEUS, which announced its prelude in July, will be related to this concert.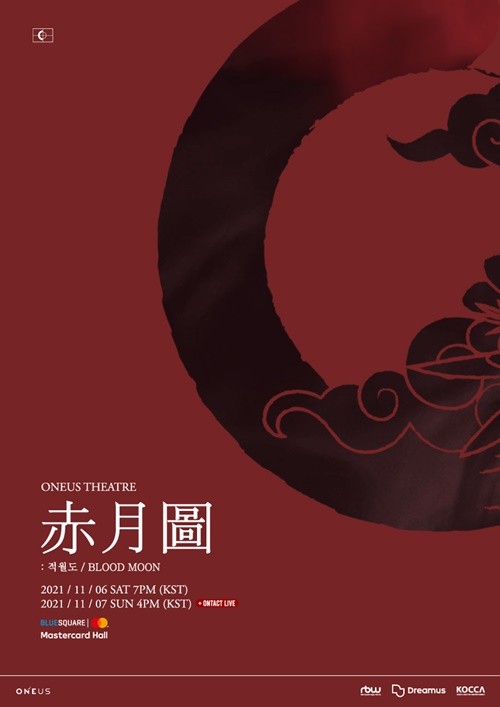 Previously, ONEUS attracted the attention of Kpop fans by introducing a new concept fan content, 'ONEUS THEATRE.'
It combines movie concepts and performances. By decorating performances using concepts such as the movies 'Mad Max: Fury Road' and 'Dead Poets Society,' they solidified their presence as the '4th generation representative performer.'
Furthermore, ONEUS is determined to reach the pinnacle of their unique concept and worldview through this concert. As it has been a long time since they met face-to-face with fans, they are currently working hard to show off a high-quality performance.
Kpop group ONEUS will make a comeback with a new album in November. They released the motion logo with an impressive oriental melody. So, they raised the curtain of their powerful narrative and are receiving a hot response.
In the past, ONEUS has shown a worldview with solid storytelling as well as excellent live and performance skills. So, fans are paying attention to the new look they will show through their comeback.
Meanwhile, ONEUS will host a solo concert on November 6 and 7. The offline performance will take place on November 6. Then, on November 7, they will host both online and offline performances. You can purchase the concert tickets starting from 8 pm on October 15.
Read More About: Jessi Flaunts Glamorous Body & Sexy Legs
best Kpop girl group
,
best kpop news site
,
best kpopstar
,
breaking news kpop
,
daily kpop news
,
Fandom
,
Korean celeb news
,
Korean singer
,
Korean singer songwriter
,
KPOP
,
Kpop album
,
Kpop beauty routine
,
Kpop boy group
,
kpop celebrity news
,
Kpop chart and news
,
Kpop colllaboration
,
KPOP comeback
,
Kpop current news
,
kpop daily news
,
Kpop fashion
,
Kpop girls group
,
kpop group ONEUS
,
Kpop idols
,
Kpop issues
,
Kpop latest news
,
Kpop music chart
,
Kpop news
,
Kpop news articles
,
Kpop news sites
,
kpop news update
,
KPOP ONEUS
,
Kpop recent news
,
Kpop skin care routine
,
Kpop skincare routine
,
KPop trending news
,
KPOPNEWS
,
ONEUS
,
ONEUS KPOP
,
ONEUS members
,
ONEUS news
,
Oneus Theatre
,
ONEUS_Black Mirror
,
Shut Up Crazy Hot
,
South Korean singer songwriter
,
the best kpop girl group
,
the best kpop girl group of 2021
,
the best kpop group of 2021
,
the top kpop group
,
top kpop boy group
,
top kpop girl group