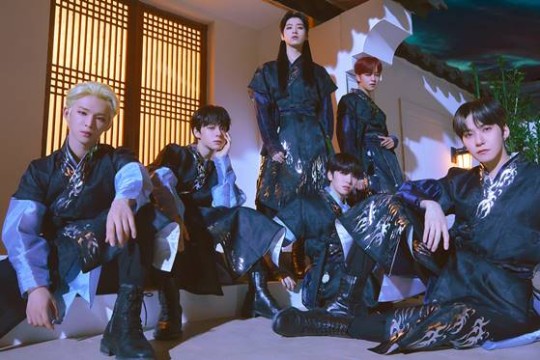 Kpop group ONEUS will release their performance music video for the theatre version of their new title song.
ONEUS (Ravn, Seoho, Leedo, Keonhee, Hwanwoong, and Xion) will present a theatre version performance video of the title song 'LUNA' of their sixth mini-album 'Blood Moon' at 8 pm today, November 25. This is ONEUS' first pledge after winning first place on a music show for the first time since their debut. Also, it is a surprise gift prepared by the group for fans to repay their generous love.
Earlier in July this year, ONEUS announced the prelude to the special project 'ONEUS THEATRE.'
It is a new concept of fan content that combines the concept of a movie and performance. They continued to communicate with fans even during non-promotion, showing their aspect as the 'content powerhouse.'
ONEUS showed off its rough masculinity through the first song of 'ONEUS THEATRE,' 'Shut Up and Crazy Hot!' and proved its outstanding conceptual performance by showing off its refreshing charm with the second song, 'Life is Beautiful.'
As a group with the modifier 'stage genius,' they performed like a 'fourth-generation cannon performer.'
They showed an energetic and delicate performance suitable for the song.
Furthermore, ONEUS will perform homage to the famous scene in the movie 'Masquerade' through the theatre version performance music video of their new song 'LUNA.'
Against the backdrop of the palace, the six members appear in traditional and sophisticated hanboks. So, it is raising expectations for the overwhelming performance of 'stage genius' ONEUS amid the overwhelming support.
ONEUS firmly proved the aspect of a 'growth group' by pouring out its own best record since the release of 'BLOOD MOON' on November 9. The album's initial sales surpassed 170,000 copies, achieving career-high, and lifted their first No. 1 trophy on a music show with the title song 'LUNA.'
Based on the strong firepower of the global fandom, ONEUS has established itself as a representative group of the fourth generation in name and reality. So, the members are gaining keen attention, making fans wonder about their future activities.
Meanwhile, Kpop group ONEUS will release the theatre version performance music video of the new song 'LUNA' at 8 pm today, November 25.
Read More About: '2021 Mnet Asian Music Awards' Features AESPA, ATEEZ, Stray Kids, ITZY, And More!
2021 kpop news
,
2021 kpop news updates
,
2021 news kpop
,
best Kpop girl group
,
best kpop news site
,
best kpopstar
,
breaking news kpop
,
daily kpop news
,
Fandom
,
izone news
,
Korean celeb news
,
Korean singer
,
Korean singer songwriter
,
KPOP
,
Kpop album
,
Kpop beauty routine
,
Kpop boy group
,
kpop celebrity news
,
Kpop chart and news
,
Kpop colllaboration
,
KPOP comeback
,
Kpop current news
,
kpop daily news
,
Kpop fashion
,
Kpop girls group
,
kpop group ONEUS
,
Kpop idols
,
Kpop issues
,
Kpop latest news
,
Kpop music chart
,
Kpop news
,
Kpop news articles
,
Kpop news sites
,
kpop news update
,
KPOP ONEUS
,
Kpop recent news
,
Kpop skin care routine
,
Kpop skincare routine
,
KPop trending news
,
KPOPNEWS
,
Kpopnews 2021
,
latest kpop news
,
ONEUS
,
ONEUS KPOP
,
ONEUS members
,
ONEUS news
,
Oneus Theatre
,
ONEUS_Black Mirror
,
recent kpop news
,
Shut Up Crazy Hot
,
South Korean singer songwriter
,
the best kpop girl group
,
the best kpop girl group of 2021
,
the best kpop group of 2021
,
the top kpop group
,
top kpop boy group
,
top kpop girl group
,
Trending Kpop news
,
trending news