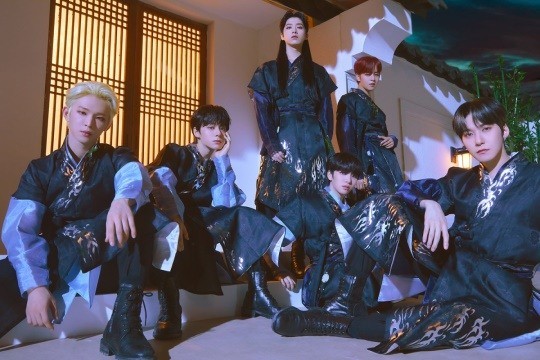 The Kpop group ONEUS successfully finished their new song 'LUNA' activities. ONEUS (Ravn, Seoho, Leedo, Keonhee, Hwanwoong, and Xion) officially wrapped up the title song 'LUNA' of their sixth mini-album 'Blood Moon' for about four weeks after performing on MBC M, MBC every1 'Show Champion.'
ONEUS released their new album 'BLOOD MOON' on November 9. They established themselves as 'Hanbok Idols' by performing various fusion hanbok styling through the activities of the title song 'LUNA.'
It is a song with deep oriental styles. The performance also captured the Korean style by using folk dances such as fan dance and mask dance. So, the members added sentimental facial expressions and gestures to create a high-quality performance.
Notably, ONEUS received favorable reviews from fans for its solid narrative development. They organically incorporate the mysterious story of the legend of 'Blood Moon' into music, concepts, and music videos.
Moreover, in this album, the participation of the members was greatly expanded to prove their musical capabilities. In addition, members Ravn and Leedo participated in the rap making of the title song 'LUNA.'
Then, members Seoho and Leedo participated in writing and composing 'Yes Or No' and 'We're in Love,' which completed the seven tracks of this album.
ONEUS has worked hard for their comeback after a long time. As a result, they won their first-ever trophy on a music show since their debut with their new song, 'LUNA.'
In addition, the initial sales of the new album 'BLOOD MOON' surpassed 170,000 copies, achieving a career-high. They set a new record twice, surpassing the achievements of their previous album while showing relentless growth. Shortly after its release, 'BLOOD MOON' topped the top 5 iTunes Top Album charts in 14 countries and regions worldwide.
Kpop group ONEUS stands out on the global music and album charts and has grown into a 4th-generation representative group. They encompass global fandom and popularity, drawing keen attention to their future activities.
Read More About: IU, Stray Kids, AESPA, and More Achieves Remarkable Results On The Gaon Chart
best Kpop girl group
,
best kpop news site
,
best kpopstar
,
breaking news kpop
,
daily kpop news
,
Fandom
,
Korean celeb news
,
Korean singer
,
Korean singer songwriter
,
KPOP
,
Kpop album
,
Kpop beauty routine
,
Kpop boy group
,
kpop celebrity news
,
Kpop chart and news
,
Kpop colllaboration
,
KPOP comeback
,
Kpop current news
,
kpop daily news
,
Kpop fashion
,
Kpop girls group
,
kpop group ONEUS
,
Kpop idols
,
Kpop issues
,
Kpop latest news
,
Kpop music chart
,
Kpop news
,
Kpop news articles
,
Kpop news sites
,
kpop news update
,
KPOP ONEUS
,
Kpop recent news
,
Kpop skin care routine
,
Kpop skincare routine
,
KPop trending news
,
KPOPNEWS
,
ONEUS
,
ONEUS members
,
ONEUS news
,
Oneus Theatre
,
Shut Up Crazy Hot
,
South Korean singer songwriter
,
the best kpop girl group
,
the best kpop girl group of 2021
,
the best kpop group of 2021
,
the top kpop group
,
top kpop boy group
,
top kpop girl group