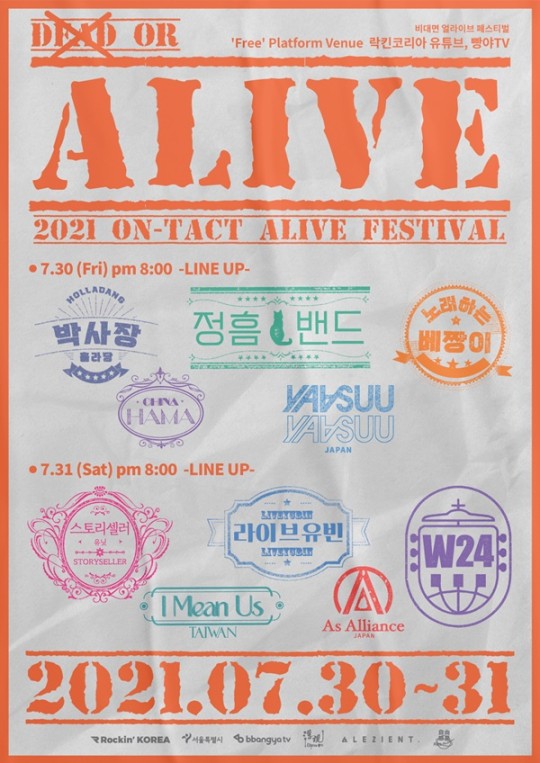 There will a global non-face-to-face performance 'On-Tact Alive Festival' featuring musicians from 4 Asian countries.
On June 16th, Rockin' Korea announced that they would host a non-face-to-face concert, 'On-Tact Alive Festival.'
It has the concept of 'survival report,' which will take place on July 30 and 31.
The concert aims to inform musicians from each country who cannot perform due to the novel coronavirus infection (Covid-19) and music-loving fans who want to 'live, breathe, and deliver music.'
The concert will feature Korean musicians such as Acoustic Duo Jeongheum Band, Busking Star LiveYubin, Female Acoustic Duo StorySeller Unit, Idol Band W24, Hip-Hop Singer Sajang Park, and Mixed Duo 'Singing Grasshopper.'
Also, Taiwan's I Mean Us, Chinese singer-songwriter HAMA, and Japanese musical artists YAASUU and As Alliance will appear.
Rockin' Korea organized this event. They said, "We prepared a new concept of 'survival report' after discussing 'what we can do' seeing the prolonged Covid-19 situation that many artists unable to take the stage."
Music fans can watch the 'On-Tact Alive Festival' for free on July 30th and 31st at 8 pm on Bbangya TV and Rockin' Korea's official YouTube channel.
Read More About: 2PM JUN. K 'MUST' Comeback Teaser Shows Artistic Charisma
2021 kpop
,
2021 kpop news
,
2021 kpop news updates
,
2021 kpop updates
,
2021 news kpop
,
2021 updates on kpop
,
KPOP
,
Kpop 2021
,
Kpop artist
,
Kpop artists
,
Kpop idols
,
Kpop news
,
Kpop trend
,
Kpop trending
,
KPop trending news
,
Kpop trending now
,
kpop trending update
,
KPOP2021
,
Kpopall
,
KPOPIDA
,
KPOPNEWS
,
Kpopnews 2021
,
Kpopnews2021
,
on-tact alive festival 2021
,
rockin korea
,
Trending
,
trending 2021
,
trending kpop
,
Trending Kpop news
,
trending kpop update
,
trending news
,
trending update kpop