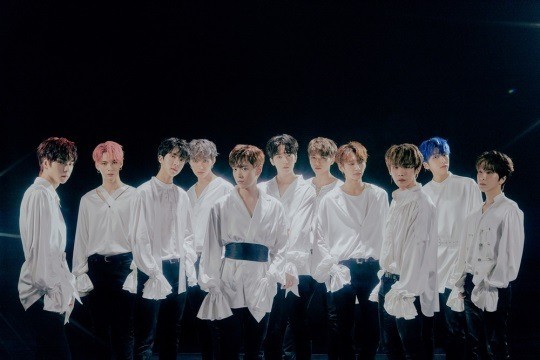 OMEGA X unveils their official light stick.
OMEGA X (Jaehan, Hwichan, Sebin, Hangyeom, Taedong, Xen, Jehyun, Kevin, Junghoon, Hyuk, Yechan) reveals their official light stick for the first time through the official fan website and social media on the afternoon of June 24th. So, the rookie group is now getting hot responses from global fans.
The light stick is made with the team color green. It contains the photo film of 11 members in the transparent sphere with the three-dimensional logo of OMEGA X. It has been designed so that fans can customize it in various ways. So, it will surely receive a more enthusiastic response after its release.
Particularly, the green and black color harmonizes on the edge of the photo film, attracting attention. Black means '0' or 'unstarted' and 'Ω (omega)' means 'expansion' or 'new beginning.' It has the meaning of such things as 'Never ceases to strive for the top' (0 to Omega).'
In addition, this light stick is designed with the latest technology. It can be controlled centrally as fans can enjoy different colors for different songs. Fans can enjoy the completed music and performances of OMEGA X.
They will release OMEGA X's light stick in limited quantities at the first mini-album 'VAMOS' release and debut showcase on June 30th. In fact, this is the first time that a light stick is released the same time as a debut. Therefore, interest in OMEGA X, which has been exceptionally outstanding as a rookie group, is increasing.
OMEGA X is raising the expectations of fans for their debut by releasing concept photos sequentially. They will release their first mini-album 'VAMOS' through online music sites before 6 pm on June 30th.
Read More About: THE BOYZ Younghoon Joins The Cast Of New SBS Drama
2021 kpop
,
2021 kpop news
,
2021 kpop news updates
,
2021 kpop updates
,
2021 news kpop
,
2021 updates on kpop
,
KPOP
,
Kpop 2021
,
Kpop artist
,
Kpop artists
,
Kpop idols
,
Kpop news
,
KPOP OMEGA X
,
Kpop trend
,
Kpop trending
,
KPop trending news
,
Kpop trending now
,
KPOP2021
,
Kpopall
,
KPOPIDA
,
KPOPNEWS
,
Kpopnews 2021
,
light stick release
,
OMEGA X
,
OMEGA X DEBUT
,
OMEGA X KPOP
,
omega x kpop news
,
omega x light stick
,
omega x light stick release
,
OMEGA X VAMOS
,
ROOKIE OMEGA X
,
trending 2021
,
trending kpop
,
Trending Kpop news
,
trending kpop update