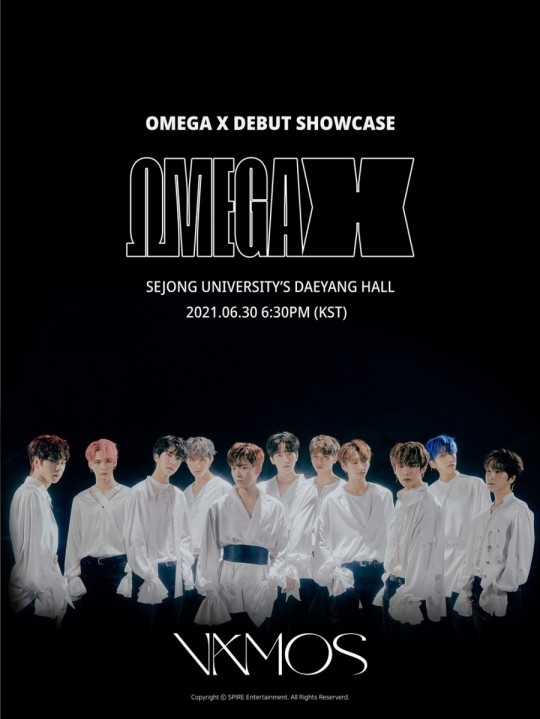 The group OMEGA X will conduct a large-scale showcase to officially announce its debut.
OMEGA X (Jaehan, Hwichan, Sebin, Hangyeom, Taedong, Xen, Jehyun, Kevin, Junghoon, Hyuk, Yechan) released a fan showcase poster to celebrate their debut through their official social media on June 17th.
In the published photo, the members matched a sense of unity in a pure white blouse that contrasts with the dark background. At the top of the image is where the official logo of OMEGA X and information about the showcase are in place. So, it is attracting the attention of fans.
OMEGA X will host a fan showcase at Sejong University Daeyang Hall in Seoul at 6:30 pm on June 30th. It is the exact day of the release of their first mini-album 'VAMOS.'
As this is the first official fan meeting, fans can expect special performances and colorful behind-the-scenes events.
Before the fan showcase, they will also host a media showcase. They will show their active appearance in the music industry. Many people are paying attention to their official debut on June 30th. They even announced that day would be the 'OMEGA X Day.'
OMEGA X contains the last letter of the Greek alphabet (Omega (Ω)), which means a new beginning and dream. Then, the 'X' represents a symbol of infinite love and hope. OMEGA X implies various values from the first meeting with fans to the last moment of achieving their dreams. So, their album 'VAMOS' will be their first step in the music industry. It contains their infinite possibilities and the beginning of their perspectives that they will present in the future.
Even before its debut, they are honorary ambassadors for Jeju Tourism, Asia Exchange Association, and signed up with DDB Korea, the world's largest advertising network. They attract more attention as they are the first rookie idol to make all-time moves on an unusual scale. It includes having large LED electronic display boards around COEX.
OMEGA X will release their first mini-album 'VAMOS' on various music sites before 6 pm on June 30th.
Read More About: LIGHTSUM, No. 1 On Japanese Music Charts & 'Vanilla' MV Reached 10 Million Views
2021 kpop news
,
2021 kpop updates
,
KPOP
,
Kpop 2021
,
Kpop artist
,
Kpop artists
,
Kpop idols
,
Kpop news
,
KPOP OMEGA X
,
Kpop trend
,
Kpop trending
,
KPop trending news
,
Kpop trending now
,
kpop trending update
,
KPOP2021
,
Kpopall
,
KPOPIDA
,
KPOPNEWS
,
OMEGA X
,
OMEGA X DEBUT
,
OMEGA X KPOP
,
omega x kpop news
,
OMEGA X VAMOS
,
ROOKIE OMEGA X
,
Trending
,
trending 2021
,
trending kpop
,
Trending Kpop news
,
trending kpop update
,
trending news
,
trending update kpop