Oh My Girl member YooA attracted attention because of her beauty.
On May 8th, Oh My Girl YooA (real name: YooA / nickname: ShaSha) posted a photo on her Instagram along with the caption, "Eating ice cream because of the yellow dust."
In the picture, she is eating an ice cream somewhere.
Her extraordinary beauty struck the hearts of her fans called 'Miracles.'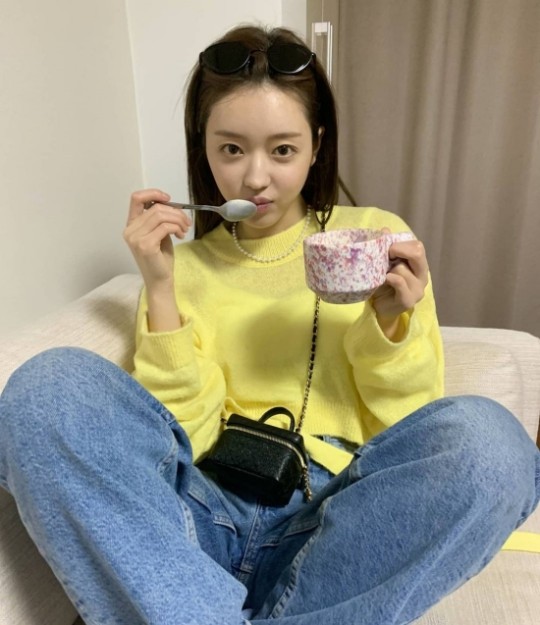 Earlier, on May 6th, the agency WM Entertainment posted the fourth track of Oh My Girl's 8th mini-album 'Dear OHMYGIRL' on their official SNS channel, saying, "We are all weird, a little bit like stranger pretending to be a human."
In this video, the crown, which was a symbol of OH MY GIRL and was in the track film poster, finally appeared. Also, the appearance of YooA, looking around and staring at the camera full of curiosity, reminds the feeling of a stranger.
Oh My Girl will release their 8th mini-album 'Dear OHMYGIRL' (title song: Dun Dun Dance) through various music sources on May 10 at 6 pm.
Read More About: OH MY GIRL 'Dun Dun Dance,' Unique Concept With UFO
2021 kpop news
,
2021 kpop updates
,
KPOP
,
Kpop 2021
,
Kpop artist
,
Kpop idols
,
Kpop news
,
kpop oh my girl
,
Kpop trending
,
KPop trending news
,
Kpop trending now
,
KPOP2021
,
KPOPIDA
,
KPOPNEWS
,
Kpopstars
,
oh my girl
,
oh my girl dundun dance
,
oh my girl new album
,
oh my girl YooA
,
trending kpop
,
Trending Kpop news
,
trending kpop update
,
trending update kpop
,
YooA