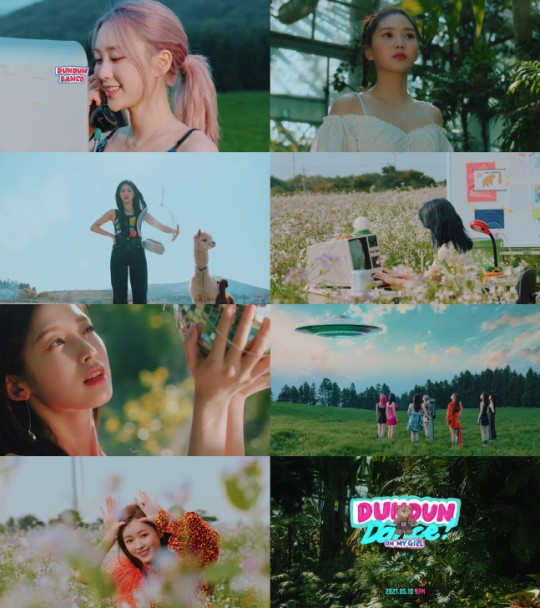 The girl group Oh My Girl is back.
On the 9th of May, Oh My Girl's management company WM Entertainment released the music video teaser of the title song 'DUN DUN DANCE' of the 8th mini-album 'Dear OHMYGIRL' through their official SNS channel.
In the released video, Oh My Girl members appeared in a green field with a strange noise, adding to the unusual atmosphere of the video. Member Jiho suddenly appeared in front and picked up the telephone and said, 'DUN DUN DANCE.' She said it like a code, and the members staring from behind stimulate fans' curiosity even more.
In addition, each member appeared along with the background music, which attracted the fans' attention. Particularly, the video shows Mimi holding a spacesuit helmet, a bag with the words "SPACE OMG," an alien portrait, Binnie rushing to communicate somewhere, and a UFO in front of the members. So, it raised the expectations of the music fans because of the album's unique concept.
The new song 'DUN DUN DANCE' is a Disco-inspired song featuring Oh My Girl's colorful vocal harmony and addictive looks. The group will surely capture the hearts of K-pop fans by showing the essence of 'Oh My Girl' dance-pop. They express a bright and cheerful atmosphere, but with a little bit of sadness.
Previously, Oh My Girl made two consecutive hits with "Nonstop" and "Dolphin" last year. They have won in eight music programs and swept various music charts. Both songs surpassed 100 million cumulative music streaming and listed on the Gaon Chart Platinum Certified List. Because of their achievements, the group is considered one of the 'Top Girl Groups' today.
Oh My Girl will release their 8th mini-album 'Dear OHMYGIRL' through various music sites at 6 pm on May 10th.
Read More About: Oh My Girl New song 'Dun Dun Dance' Teaser Video Released
2021 kpop
,
2021 kpop girl idols
,
2021 kpop news
,
2021 kpop news updates
,
2021 kpop updates
,
2021 updates on kpop
,
Dear OHMYGIRL
,
dun dun dance
,
KPOP
,
Kpop 2021
,
Kpop artist
,
Kpop artists
,
Kpop idols
,
Kpop news
,
kpop oh my girl
,
Kpop trend
,
Kpop trending
,
KPop trending news
,
Kpop trending now
,
kpop trending update
,
KPOP2021
,
Kpopall
,
KPOPIDA
,
KPOPNEWS
,
oh my girl
,
oh my girl new album
,
Trending
,
trending 2021
,
trending kpop
,
Trending Kpop news
,
trending kpop update
,
trending news
,
trending update kpop