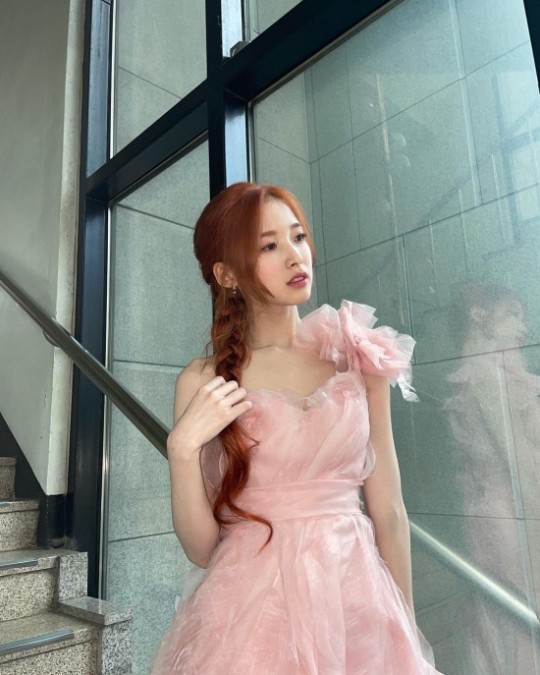 The dress is a cherry jubilee, and the taste is mint chocolate. On May 15th, OH MY GIRL, Arin posted several photos on her Instagram.
In the photo, Arin is wearing a pink dress and showing various poses.
Her gorgeous beauty struck the hearts of Miracle (fan club).
OH MY GIRL was popular with mega-hits, 'Nonstop' and 'Dolphin' last year. Now, they released their eighth mini-album, 'Dear OHMYGIRL' after a year and a month-long hiatus.
The album consists of a total of six tracks to awaken the five senses in the drowsy spring. It includes the title track 'DUN DUN DANCE,' 'Dear You,' 'My Doll (Hello, Play In Your Dreams),' 'Quest,' 'Invitation,' and 'Swan.' These songs will show the essence of OH MY GIRL's dance-pop.
The title track 'DUN DUN DANCE' is a Disco-inspired song with a good melody, rap, witty lyrics, and dynamic changes on the beat between FUNK and TRAP.
Read More About: ITZY, New Music Video Hits 80 Million Views
KPOP
,
Kpop 2021
,
Kpop artist
,
Kpop artists
,
Kpop idols
,
Kpop news
,
kpop oh my girl
,
Kpop trend
,
Kpop trending
,
KPop trending news
,
Kpop trending now
,
kpop trending update
,
KPOP2021
,
KPOPIDA
,
KPOPNEWS
,
oh my girl
,
oh my girl comeback
,
oh my girl dundun dance
,
oh my girl new album
,
oh my girl_arin
,
Trending
,
trending 2021
,
trending kpop
,
Trending Kpop news
,
trending kpop update
,
trending news
,
trending update kpop