OH MY GIRL and NCT DREAM performed on 'Show! Music Core' on May 15th.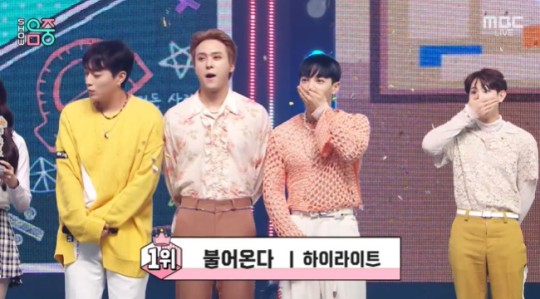 BEAST (also known as Highlight) beat IU and ITZY for the first place.
MBC 'Show! Music Core,' aired on May 15th selected BEAST's 'The Blowing' as the number one.
After winning the award, BEAST member Doojoon Yoon said, "I really feel surprised. Thank you so much. While preparing for this album, there are not many employees at the company, but they stayed up all night. Thank you to the staff. Thank you so much for the light. We love you."
OH MY GIRL released their eighth mini-album track 'Dear You' and their title track 'Dun Dun Dance.' The colorful vocals of OH MY GIRL members with bright and cheerful rhythms add to the addictive sound of the song. It pleased the eyes and ears of the music fans along with their spring fairy-like charm.
Also, on that day, NCT DREAM has returned with their first regular album track 'Dive Into You' and the title track 'Hot Sauce.' NCT DREAM left a strong impression like the lyrics of 'Hot Sauce,' showing off their confidence and charm that you cannot overcome once tasted.
ONEUS unveiled the performance of their new song 'BLACK MIRROR,' which is based on the reality of being trapped in TVs, smartphones, and computers, which are essential items for modern people. ONEUS tried the disco genre for the first time. They attracted attention with a welcoming performance like Michael Jackson with a cheerful rhythm.

Second Aunt KimDavi, who was greatly loved for her song 'Jurajura' last year, cheered for the people who were having a hard time. She performed her new song, 'UP.'
Also, WJSN the Black, consisting of Seola, Exy, Bona, and Eunseo, gave off an intense charm with their song, 'Easy.'
On this day's broadcast, BEAST (Highlight), OH MY GIRL, WJSN The Black, NCT DREAM, ONEUS, Second Aunt KimDavi, ONF, ITZY, AB6IX, P1Harmony, BLITZERS, Mujin Lee, Kimmuseum, Thebless, and Checkmate performed.
Read More About: OH MY GIRL, The 'DUN DUN DANCE' Craze
korean popular music show
,
KPOP
,
Kpop artist
,
Kpop artists
,
Kpop idols
,
Kpop news
,
kpop oh my girl
,
Kpop trending
,
KPop trending news
,
Kpop trending now
,
KPOP2021
,
Kpopall
,
KPOPIDA
,
KPOPNEWS
,
NCT
,
nct dream
,
nct kpop
,
nct news
,
oh my girl
,
oh my girl comeback
,
oh my girl dundun dance
,
oh my girl new album
,
second aunt kimdavi
,
show! music core
,
trending kpop
,
Trending Kpop news
,
trending kpop update
,
WJSN
,
WJSN members