Kpop group NU'EST (JR, Aron, Baekho, Minhyun, and Ren) will host their offline concert today, November 26. NU'EST will hold NU'EST CONCERT 'THE BLACK' at Jamsil Indoor Gymnasium in Seoul for a total of 3 days from November 26 to 28. They will spend a meaningful time meeting with fans in person after a long time.
Particularly, NU'EST's solo concert 'THE BLACK' will take place for the first time after about two years and seven months. The lyrics of 'BLACK' from their 2nd full-length album 'Romanticize,' inspires the theme of the concert.
The song 'BLACK' conveys the message, 'All the world's colors gather to become black.'
It was completed with an all-time performance that integrated all the colors and various charms they had.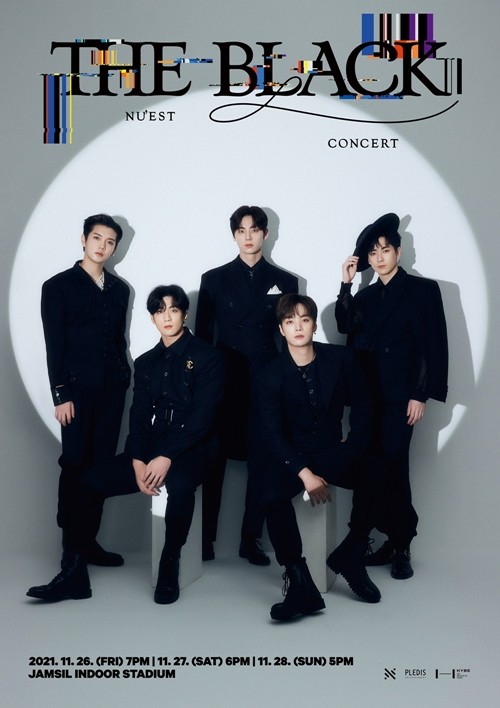 In addition, Kpop group NU'EST showed high popularity by selling-out tickets for all three-day performances as soon as the ticket sales started. Just the news of their offline event aroused high expectations from fans.
As such, NU'EST, whose about to hold a concert in a long time, has prepared performances where they can show their own deep musical spectrum with various styles. They will show individuals to group performances and reveal performances of songs on the album that they haven't shown before.
Read More About: SEVENTEEN Unveils Japanese Special Single 'Ainochikara' MV Teaser
best Kpop girl group
,
best kpop news site
,
best kpopstar
,
breaking news kpop
,
daily kpop news
,
Fandom
,
Korean celeb news
,
Korean singer
,
Korean singer songwriter
,
KPOP
,
Kpop album
,
Kpop beauty routine
,
Kpop boy group
,
kpop celebrity news
,
Kpop chart and news
,
Kpop colllaboration
,
KPOP comeback
,
Kpop current news
,
kpop daily news
,
Kpop fashion
,
Kpop girls group
,
Kpop idols
,
Kpop issues
,
Kpop latest news
,
Kpop music chart
,
Kpop news
,
Kpop news articles
,
Kpop news sites
,
kpop news update
,
kpop nu'est
,
Kpop recent news
,
Kpop skin care routine
,
Kpop skincare routine
,
KPop trending news
,
KPOPNEWS
,
Minhyun
,
NU'EST member
,
NU'EST member Minhyun
,
NU'EST members
,
NU'EST news
,
NU'est
,
South Korean singer songwriter
,
the best kpop girl group
,
the best kpop girl group of 2021
,
the best kpop group of 2021
,
the top kpop group
,
top kpop boy group
,
top kpop girl group