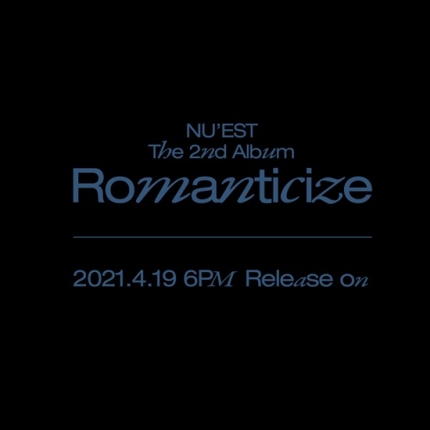 NU'EST (JR, Aaron, Baekho, Minhyun, and Ren) will make a full-fledged comeback with their 2nd regular album, 'Romanticize,' on April 19th.
NU'EST will make a comeback with their second full album 'Romanticize' on April 19. They announced it through their official SNS channel on March 24th. While they are preparing for the comeback, the concept page was released in a surprise.
The released concept page shows NU'EST's new album 'NU'EST The 2nd Album Romanticize.' The phrase "2021.04.19 6 PM Release on" appears with a chic-black background. It is the release date of their album. Fans are excited about their new music, and they are waiting for the NU'EST comeback. It raised expectations for what promotions to show through the concept page in the future.
Their new album 'Romanticize' means 'to make it more romantic than it actually is.' It is making speculation. Moreover, NU'EST's 2nd regular album, 'Romanticize,' is a regular album after 7 years since 'Re: BIRTH' in 2014. It is receiving more explosive reactions from fans. Various contents will be released that started with the opening of the concept page.
NU'EST has confirmed their comeback in about a year and start their comeback promotion. It provides a wide spectrum based on strong musical competence. From vocals and performances to lyrics, composition, and production, NU'EST stands at the top of the music industry. They are writing the myth of reverse popularity.
Accordingly, they are receiving great attention because of their new and colorful music and concepts. Fans anticipate what kind of performance the group will present through their 2nd regular album 'Romanticize.'
On the other hand, NU'EST will release its 2nd regular album 'Romanticize' at 6 pm on April 19th.
Read More About: Pentagon Achieves 8 Million Views Of 'DO or NOT' MV