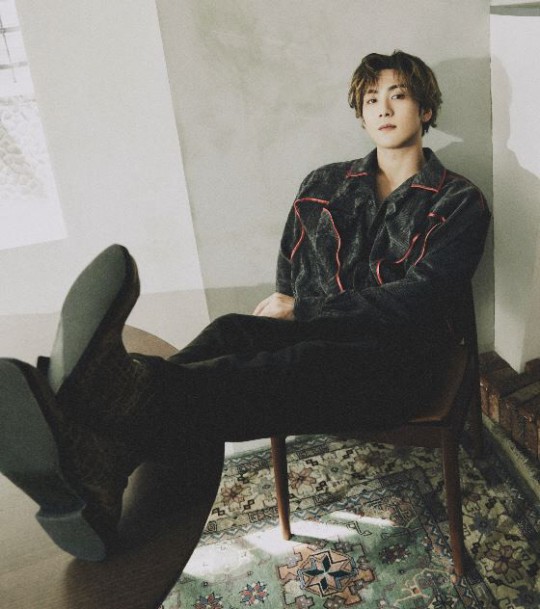 Kpop group NU'EST member Baekho will release his new song 'Because For Me, It's You' at 6 pm on December 19.
'Because For Me, It's You' is a song that expresses the desire to leave for their own world and the love that will not change in any ordeal. In fact, NU'EST member Baekho wrote the lyrics himself. The lyrical melody of the piano and string will surely capture viewers and listeners.
Mainly, this song will be the OST for the SBS drama 'Now, We Are Breaking Up.'
In the drama, Youngeun (Hyekyo Song) and Jaeguk (Kiyong Jang) draw their hearts toward each other.
Baekho is active as the main vocalist and producer of the Kpop group NU'EST. Since 2016, he has participated as a lyricist, composer, and arranger in a number of songs, including the group's album title song. In May, he played a role in his first musical with the 'Song of the Sun.'
Also, he will appear in the musical 'Altar Boyz,' which will start on December 18.
Read More About: CL Revealed The Secret Behind 2NE1's Disbandment
2021 kpop news
,
2021 kpop news updates
,
2021 news kpop
,
best kpop news site
,
breaking news kpop
,
daily kpop news
,
Korean celeb news
,
KPOP
,
Kpop artist
,
Kpop artists
,
kpop boy artist
,
Kpop boy group
,
Kpop boy idols
,
Kpop boy singer
,
kpop celebrity news
,
Kpop chart and news
,
kpop daily news
,
Kpop idols
,
Kpop latest news
,
kpop latest updates
,
Kpop news
,
Kpop news articles
,
Kpop news sites
,
kpop news update
,
kpop nu'est
,
Kpop recent news
,
Kpop trend
,
Kpop trending
,
KPop trending news
,
Kpop trending now
,
kpop trending update
,
KPOP2021
,
KPOPIDA
,
KPOPNEWS
,
latest kpop news
,
latest kpop updates
,
NU'EST member
,
NU'EST member Minhyun
,
NU'EST members
,
NU'EST news
,
NU'est
,
recent kpop news
,
top kpop boy group
,
treasure
,
Trending
,
trending 2021
,
trending kpop
,
Trending Kpop news
,
trending kpop update
,
trending news
,
trending update kpop