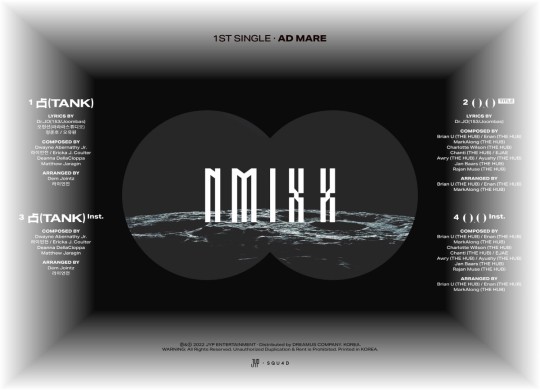 JYP Entertainment's rookie girl group, NMIXX, is signaling its entry to the music industry with its debut song, 'OO.'
JYP posted the tracklist of NMIXX's debut single 'AD MARE' on the official social media channel at midnight on February 7. According to the tracklist, NMIXX's debut single contains a total of 4 tracks. So, it includes the title song 'OO,' the sidetrack 'TANK' (Tank), and two instrumentals of each song. The title song 'OO' features NMIX's strong confidence in getting ready to feel surprised by seeing something new. The HUB, a global production team that collaborated with TWICE, ITZY, TREASURE, and ENHYPEN, led the song, and Dr. JO, who worked with TWICE, IU, and MAMAMOO, joined forces to showcase 'MIXX POP,' a genre unique to NMIXX.
The song 'TANK' depicts the bold story of NMIXX's confident and determined movement against the world by comparing it to a tank. They expressed their ambition to occupy the world with the Chinese character 'Point to Occupy' reminiscent of a tank as the song's title. In fact, it is a hip-hop R&B genre of the punk rock base, where rough distortion guitars open. Dem Jointz, a producer and global hit song maker of Kpop trendsetter and world-class hip-hop artist Kanye West, collaborated to enhance completeness.
The new NMIXX, ambitiously introduced by 'girl group master' JYP in 2022, is a combination of the letter 'N' meaning now, new, next, and unknown n, and the word 'MIX' symbolizing diversity, meaning 'the best combination to take responsibility for the new era.'
Their debut single 'AD MARE' features their debut song 'OO' and the track 'TANK.'
It sells out in 10 days in July 2021 under the special name, 'Blind Package,' without disclosing any information. Also, it recorded 61,667 pre-orders, proving high interest among Kpop fans in Korea and abroad.
Members Lily, Haewon, Sullyoon, Jinni, BAE, Jiwoo, and Kyujin are not limited to certain positions. So, they are the '7-7 All Ace' group NMIXX, which has seven vocals, seven dances, and seven visual formulas. They will surely open a new era in the Kpop industry by adding various charms to their capabilities.
Meanwhile, NMIXX will release their debut single 'AD MARE' and title song 'OO at 6 pm on February 22. Also, they will release various news related to their debut sequentially on their official social media sites.
Read More About: OST Album Of 'Let Me Be Your Knight' To Be Released Today!
actress IU
,
best Kpop girl group
,
best kpop news site
,
best kpopstar
,
breaking news kpop
,
Chaeryeong
,
Codename: Secret ITZY 2
,
daily kpop news
,
Doyoung
,
Fandom
,
Guess who
,
It'z Different
,
ITZY
,
ITZY members
,
itzy news
,
ITZY updates
,
IU
,
IU news
,
iu songs
,
iu tv
,
IU updates
,
iu works
,
Jieun Lee
,
Junghwan
,
Korean celeb news
,
Korean singer
,
Korean singer songwriter
,
KPOP
,
Kpop album
,
Kpop beauty routine
,
Kpop boy group
,
kpop celebrity news
,
Kpop chart and news
,
Kpop colllaboration
,
KPOP comeback
,
Kpop current news
,
kpop daily news
,
Kpop fashion
,
Kpop girl group ITZY
,
Kpop girls group
,
Kpop group ITZY
,
Kpop idols
,
Kpop issues
,
kpop itzy
,
Kpop IU
,
Kpop latest news
,
Kpop music chart
,
Kpop news
,
Kpop news articles
,
Kpop news sites
,
kpop news update
,
Kpop recent news
,
Kpop skin care routine
,
Kpop skincare routine
,
KPop treasure
,
KPop trending news
,
KPOPNEWS
,
Lia
,
mafia in the morning
,
rookie group treasure
,
Ryujin
,
singer IU
,
South Korean singer songwriter
,
the best kpop girl group
,
the best kpop girl group of 2021
,
the best kpop group of 2021
,
the top kpop group
,
top kpop boy group
,
top kpop girl group
,
treasure
,
Treasure members
,
Treasure news
,
Yeji
,
Yuna