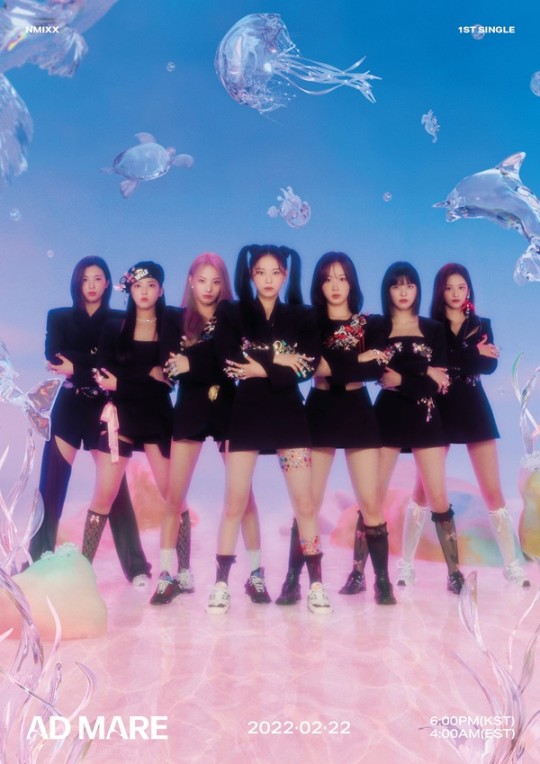 A group photo of 7 members of the rookie girl group NMIXX was additionally released. On February 8, JYP Entertainment unveiled a group photo of the 7-member rookie NMIXX finally gathered in one place through their official social media channel.
At midnight on February 15, NMIXX unveiled the second group concept photo and once again showed off the presence of the whole group. In the photo, NMIXX showed a different fantasy visual combination from the chicness in the first group photo. With a unique composition centered on the youngest member of the girl crush charm, Kyujin, each of the seven members showed off their dignified charisma. Notably, the members set their eyes on an unknown space rather than a mysterious marine creature. So, it stimulates curiosity about the debut concept.
NMIXX's debut song, 'OO,' is a 'mix pop' genre song that embodies the exclamation 'Oh!' and contains confidence in the music and performance that NMIXX will unfold.
The group name, NMIXX, combines the letter 'N,' which means now, next, new, and the unknown 'n," and 'MIX,' which symbolizes diversity, to create a new era. It means 'the best combination to take responsibility for the new era.'
JYP Entertainment's rookie girl group this year, NMIXX, consists of seven members: Lily, Haewon, Sullyoon, Jinni, BAE, Jiwoo, and Kyujin. They showed off their unrivaled skills in the vocal and dance cover content 'Qualifying' series that unfolded last year. Also, they heralded the birth of an 'All Ace Group,' skilled in singing, dancing, and full of visual beauty!
NMIXX will release their debut single 'Ad Mare' and the title song 'OO' at 6 pm on February 22.
You Might Also Like:
best Kpop girl group
,
best kpop news site
,
best kpopstar
,
breaking news kpop
,
crush
,
crush news
,
Crush updates
,
daily kpop news
,
debut nmixx
,
Fandom
,
hip-hop singer Crush
,
Hyoseob Shin
,
JYP NMIXX
,
Korean celeb news
,
Korean singer
,
Korean singer songwriter
,
KPOP
,
Kpop album
,
Kpop beauty routine
,
Kpop boy group
,
kpop celebrity news
,
Kpop chart and news
,
Kpop colllaboration
,
KPOP comeback
,
Kpop current news
,
kpop daily news
,
Kpop fashion
,
Kpop girls group
,
Kpop idols
,
Kpop issues
,
Kpop latest news
,
Kpop music chart
,
Kpop news
,
Kpop news articles
,
Kpop news sites
,
kpop news update
,
kpop NMIXX
,
Kpop recent news
,
kpop singer crush
,
Kpop skin care routine
,
Kpop skincare routine
,
KPop trending news
,
KPOPNEWS
,
NMIXX
,
NMIXX debut single
,
NMIXX kpop
,
NMIXX members
,
singer crush
,
Sometimes
,
South Korean singer songwriter
,
the best kpop girl group
,
the best kpop girl group of 2021
,
the best kpop group of 2021
,
the top kpop group
,
top kpop boy group
,
top kpop girl group