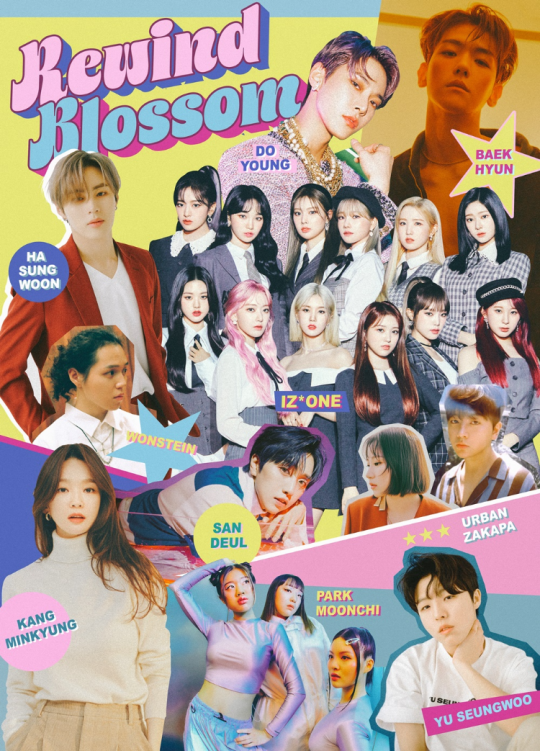 The New Retro Project will feature various kpop idols. You can listen to IZ*ONE, EXO's Baekhyun, NCT's Doyoung, and Ha Sungwoon in one album.
On the 8th, Stone Music Entertainment, KT, and Genie Music announced a collaboration for the new retro project, 'Rewind: Blossom.'
It is a project remaking a masterpiece during the 1990s and the early 2000s. So, this will show how musicians loved representing the present era with their own sensibility. There will be a total of 8 songs over two days on the 12th and 26th.
In other words, this new retro project album will bring back memories of the past. They will be releasing albums through cassette tapes, not CDs. So, it is like the analog to MZ generation. For sure, this will provide a different fun for people accustomed to digital.
Moreover, this album includes artist Ji-hoon Lee, Hye-sung Shin's 'doll,' and Lula's '3'. There are a total of 8 songs in this album. It includes 'Phantom' by Jiyoon Park and 'One More Step' by Sang Yoon. Also, it will include 'It's You' by The More and 'Always Like Now' by Hyerin Lee.
In fact, the lineup of participating artists is awesome. This album will feature different artists and idols. EXO's Baekhyun, NCT's Doyoung, IZ*ONE, and Ha Sungwoon will join the project. Simultaneously, Urban Zakapa, Sandeul, Davichi, Minkyung Kang, Onestein, Munchi Park, and Seungwoo Yoo completes the lineup. They said, "We are looking forward to joining and showing a different look."
Meanwhile, the album began its pre-sale on March 12th. The cassette tape player, 'KASSETTE,' releases the essence of the New Retro project design. So, this will embody sophistication and simplicity with metallic silver color. At the same time, it does not only have the existing cassette player function. But, 'KASSETTE also has a Bluetooth function. This increases accessibility and usability with various smart devices. Therefore, it is not just for an analog cassette player. The 'Rewind: Blossom' project explains the meaning of the concept 'communication of the past and presents through music.'
Besides, the album will include cassette tapes and deco stickers that can "change" the player. And the album contains all participating artists' photo cards, retro group posters, calendars, and note goods to add practicality.
On the other hand, EXO's Baekhyun released his new album, 'Bambi.'
2021 kpop news
,
2021 kpop news updates
,
Baekhyun Exo
,
baekhyun rewind blossom
,
EXO
,
Exo_Beakhyun
,
EXO_NEWS
,
EXO's Baekhyun
,
Ha Sungwoon
,
IZ*ONE
,
iz*one kpop news
,
Kpop artist
,
KPop iz*one
,
Kpop news
,
Kpop trend
,
Kpop trending
,
KPop trending news
,
Kpop trending now
,
kpop trending update
,
Kpop_IZ*ONE
,
KPOP2021
,
KPOPIDA
,
KPOPNEWS
,
new retro project
,
rewind blossom
,
Trending
,
Trending Kpop news
,
trending kpop update
,
trending news