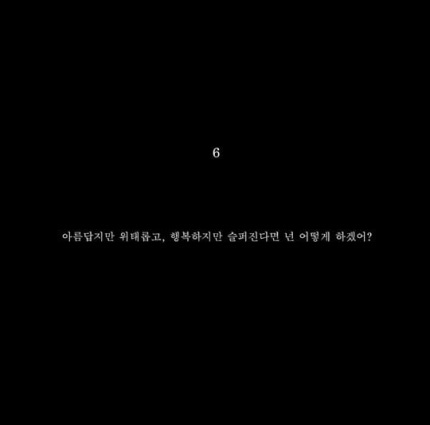 The legendary kpop band NELL left a deep impression with a new teaser image, raising expectations for their comeback.
Space Bohemian attracts attention by releasing the sixth teaser image of NELL on its official social media on August 16th.
NELL's teaser image series, which they released sequentially since August 9th, received praises for being unique. The teaser images only consist of a black background and white text messages.
In the sixth teaser image, a short text appeared, 'What would you do if you were beautiful but at risk, happy but sad?' The interrogative message using the opposite meanings of 'beautiful' and 'risky,' 'happiness' and 'sadness' left a deep impression. At the same time, fans are curious as to what this meant.
Earlier, on August 2nd, NELL confirmed a splendid return in September. They released the teaser image engraved with 'Moments in between' and the number '202109,' which seem like the new album name. Details such as the album form and release date have not yet been revealed, so fans' attention has been focused on them.
NELL is one of Korea's leading modern rock bands. Kpop band NELL released hits songs such as 'Time Walking On Memory,' 'Limit,' 'Loosing Heart,' 'Island,' 'The Day Before,' 'Four Times Around The Sun,' 'Stay,' 'White Night' and 'See U in Five.'
NELL's unique sensibility and deep music style have formed a strong fan base and received steady love from music fans.
Read More About: Daniel Kang Won 3 Times On The Fan-Voting Site, 'Idol Pick'
2021 kpop news
,
2021 kpop updates
,
band nELL
,
KPOP
,
Kpop album
,
kpop album release
,
kpop albums
,
Kpop artist
,
Kpop artists
,
kPOP band Nell
,
KPOP comeback
,
Kpop idols
,
kpop NELL
,
kpop NELL band
,
Kpop news
,
Kpop trend
,
Kpop trending
,
KPop trending news
,
Kpop trending now
,
kpop trending update
,
KPOP2021
,
Kpopall
,
KPOPIDA
,
KPOPNEWS
,
NELL
,
Nell Band
,
nell band kpop
,
Nell comeback
,
rock band Nell
,
trending 2021
,
trending kpop
,
Trending Kpop news
,
trending kpop update
,
trending news
,
trending update kpop