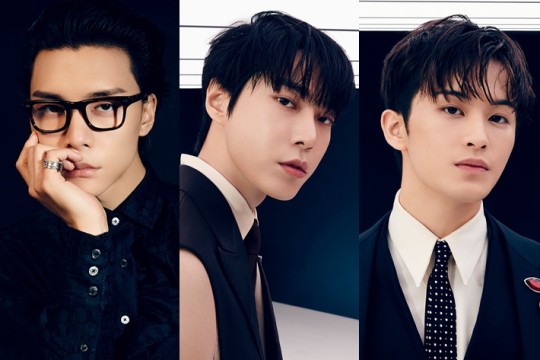 Kpop group NCT members Johnny, Doyoung, and Mark, apologized for their rash words and actions when they received an emergency text message about the Jeju earthquake.
The three of them apologized by posting on their Instagram Stories on December 14. NCT Johnny wrote, "I'm sorry that I acted rashly during today's comeback live. I will think and act more carefully in the future. I'm really sorry. I apologize once again to everyone who may have felt inconvenienced by my actions."
NCT Doyoung said, "I made a rash mistake without being aware of the situation properly. I want to apologize to those I hurt and feel uncomfortable with because of my careless remarks. It is my complete mistake and my fault. So, I apologize once again without any excuses."
Then, he added, "In the future, we will do our best to avoid repeating such mistakes. Once again, I would like to apologize to everyone due to my remarks."
NCT Mark said, "I want to say that I am very sorry for the action I showed on today's comeback live. I am very sorry for not understanding the situation properly and showing careless and frivolous behavior. "
Previously, Kpop group NCT held a comeback countdown live for NCT's 3rd full-length album, 'Universe' on YouTube this afternoon. At around 5:19 am, a text message from the Korea Meteorological Administration arrived stating that a 5.3-magnitude earthquake had occurred in an area 32km southwest of Seogwipo-si, Jeju.
As the news live, alarms of the arrival of disaster messages appeared in various places in the NCT comeback countdown live. The members who initially thought it was a text message related to COVID-19 later found out that it was an earthquake alert. At that time, Doyoung mentioned the song 'Earthquake' on the album, Mark followed the song briefly, and Johnny danced. However, other members stopped them.
Viewers who watched the broadcast that day criticized the three member's words and actions for being inappropriate. Soon after, the three members immediately apologized after the live broadcast ended.
Read More About: MONSTA X Attended The Red Carpet Event Of The 'Jingle Ball' Tour In Philadelphia, USA
2021 kpop news
,
2021 kpop news updates
,
2021 news kpop
,
best kpop news site
,
breaking news kpop
,
daily kpop news
,
group NCT 127
,
Korean celeb news
,
KPOP
,
Kpop 2021
,
Kpop artist
,
Kpop artists
,
kpop celebrity news
,
Kpop chart and news
,
kpop daily news
,
kpop group NCT 127
,
Kpop group NCT Dream
,
Kpop idols
,
Kpop latest news
,
Kpop nct
,
kpop nct 127
,
Kpop news
,
Kpop news articles
,
Kpop news sites
,
kpop news update
,
Kpop recent news
,
Kpop trend
,
Kpop trending
,
KPop trending news
,
Kpop trending now
,
KPOP2021
,
KPOPIDA
,
KPOPNEWS
,
NCT
,
nct 127
,
NCT 127 3rd full-length album
,
nct 127 kpop
,
NCT 127 members
,
nct 127 NEWS
,
NCT 127 presents Sticker
,
nct 127 Save
,
nct dream
,
nct dream news
,
nct kpop
,
NCT members
,
nct news
,
NCT sub-unit
,
NCT127
,
trending kpop
,
Trending Kpop news
,
trending kpop update
,
trending news
,
trending update kpop