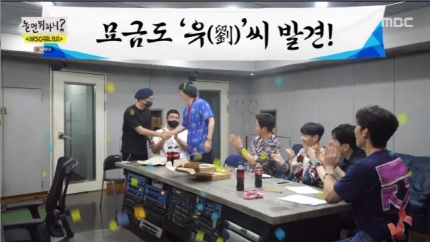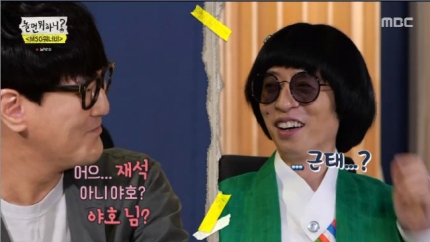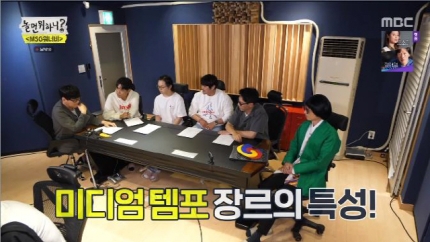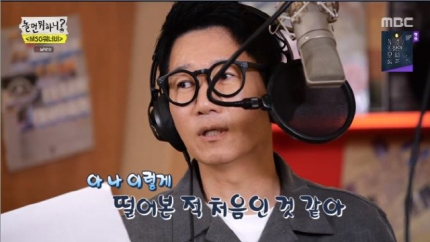 MSG Wannabe finished their first recording smoothly.
On MBC's 'Hangout With Yoo' broadcast on June 19th, MSG Wannabe M.O.M and Sangdong Jung's debut song recording site was revealed.
In a recording studio in Seoul, Yaho Yoo found someone who was busy working. Yaho Yoo welcomed him by saying, "You're a new composer." Geuntae Park is a professional composer who produced numerous masterpieces for SG Wannabe to Brown Eyed Soul, Mi-rae Yoon, Hyori Lee, and IU.
Jinho Kim was also discovered. Composer Geuntae Park said, "It's been a while since I saw the audition. You are really good at singing at this place. So from then on, I started writing songs, and the album 'Timeless' came out."
Yaho Yoo exclaimed, "This is definitely the top 10." Jiyoung Baek's 'I Won't Love' was also a work by Geuntae Park. They recorded the song 'I Won't Love' for two months. Then, composers Yaho Yoo and Geuntae Park, born in 1972 and of the same age, decided to talk to each other.
Composer Geuntae Park recalled KCM's (Kang Chang Mo) passion. He said, "As I remember, Changmo even slapped himself to complete the song."
In the M.O.M recording studio, Jaejung Parc heard a strange sound when recording. Then, it blossomed into a story that's interrupted. The members made a fuss, saying, "Isn't it about to go well?
Yaho Yoo made a surprise visit to Jaejung Parc's parents' restaurant, which runs a restaurant in the temple. Jaejung's father stared at Yaho Yoo and said, "Let's take a QR code," causing laughter. When said that his mother was a writer of oriental paintings and participated in various contests, Yaho Yoo joked, "My family is a famous master in the audition." My parents run a temple restaurant, but their religion is Catholic.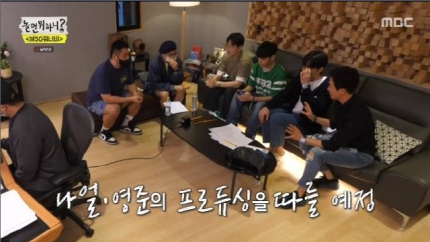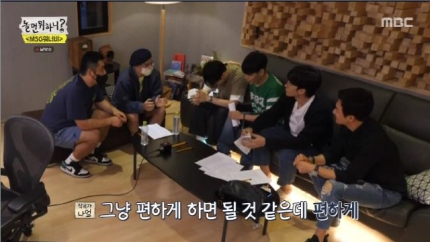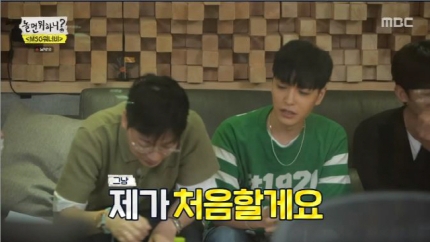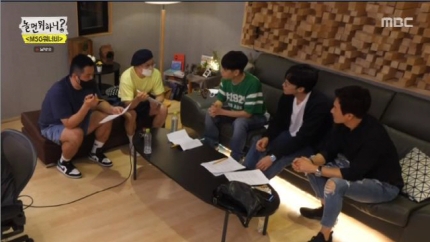 In another recording studio, the main characters of the sweet voice were Naul and Youngjun, the vocalists and lyricists of Brown Eyed Soul. Donghwi Lee asked, "I'm curious. Is there a reason you gave the song to people who don't give you songs easily?" Then, Naul replied, "I don't think the issue of a choir was in Korea, but it was nice to see a male choir stand out." Also, Youngjun said, "I thought a lot about wanting you to sing our song."
Youngjun expressed his affection for the song, saying, "It's been a while since I worked late." The guide song started with Youngjun's voice and ended sweetly with Naul's luxurious voice. When asked to sing the whole song, Donghwi Lee said, "I acted as if I was screaming with my voice yesterday." Then, Jungmin Kim said, "He's good at it, saying that every time." Naul comforted, "I'm taking it easy because my throat is not good right now."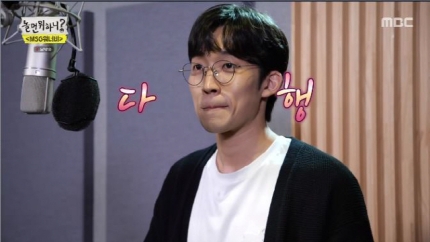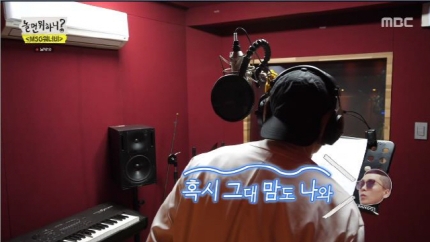 The recording started with the leader Simon Dominic (Kisuk Jung). When he felt worried, Naul praised him, saying, "It's okay because I'm in the middle of the song. It's cool if we could sing it all together." When asked, 'Have you ever been nervous?' So, Naul recalled, "When I first went to a recording studio, I felt so surprised to hear my voice so detailed."
In response to the question 'Aren't you angry?' at the above order and Naul's serious appearance, Youngjun explained, "It's a good feeling," and made everyone laugh. Jungmin Kim was nervous about the genre he was doing for the first time, but Youngjun cheered him by saying, "Didn't you sing all the ballads in the past?"
Donghwi Lee entered the recording studio, saying, "I never thought I would sing in front of Naul." After detailed directing, Naul said, "I should scout Simon Dominic to Brown Eyed Soul. I need to write you a song. Why are you so good at singing? It seems like it's done."
So, Youngjun joked, "Would you like to trade with me?"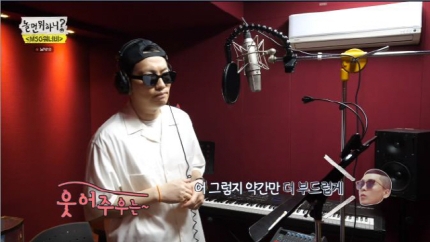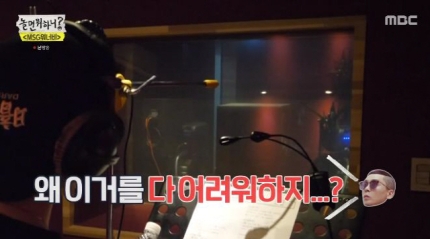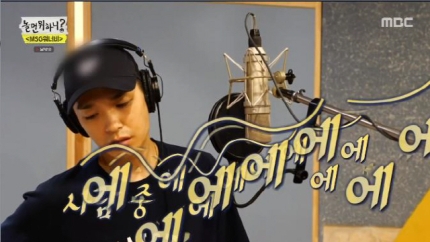 Naul asked for an adlib in the middle. Simon Dominic had a hard time saying, "I didn't do well."
Donghwi Lee, an adlib player, shyly took on the challenge and received favorable reviews. Naul said, "It's our first time working on a song like this. It's natural if we sing our songs. But, it's different because other singers sing our style of songs." Youngjun said, "Naul's reaction is amazing. Being active… The results are good."
Yaho Yoo said, "I've never seen Naul or Wonbin on the show." Yaho Yoo felt thrilled to see Naul and was happy to say, "Naul, it's the first time we've seen each other in 30 years of broadcasting."
Naul and Jaesuk Yoo jumped up and greeted them. The two even went to a nearby school in the same area. Naul said that he usually only watches dramas on TV. Also, he said that he watched 'Once Again' where Sangyeob Lee appeared.
Naul, who majored in art, is currently preparing an exhibition. When Yaho Yoo asked, "What is the price?" Naul said, "It's not that expensive. I'll match the price."
Read More About: Golden Child Solo Concert Pre-sale & All Seats, Sold Out
2021 kpop news
,
2021 kpop updates
,
changmo
,
hangout with yoo
,
jinho kim
,
kim jungmin
,
KPOP
,
Kpop 2021
,
Kpop artist
,
Kpop artists
,
Kpop idols
,
Kpop news
,
Kpop trend
,
Kpop trending
,
KPop trending news
,
Kpop trending now
,
KPOP2021
,
Kpopall
,
KPOPIDA
,
KPOPNEWS
,
lee donghwi
,
msg wannabe
,
naul
,
parc jaejung
,
park geuntae
,
simon dominic
,
Trending
,
trending 2021
,
trending kpop
,
Trending Kpop news
,
trending kpop update
,
trending news
,
trending update kpop
,
Yaho Yoo
,
yoo jeasuk
,
youngjun