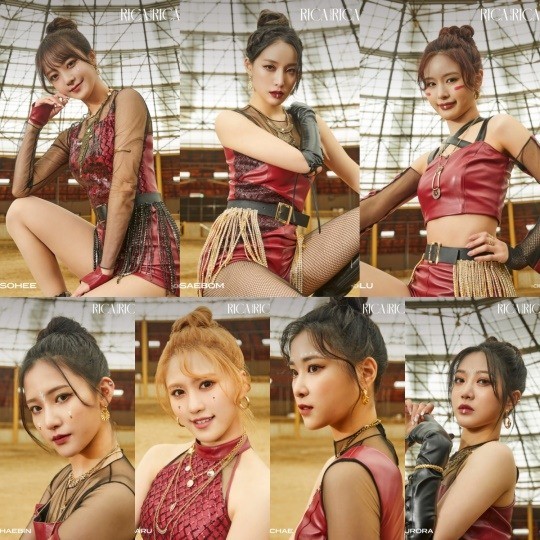 The Kpop group NATURE made a strong impression. NATURE released the special album 'RICA RICA' through various online music sites at 6 pm on January 24.
This album is a digital single containing the special song 'RICA RICA,' a special song that NATURE members participated in the production, and the four-part documentary 'NATURE Can't Flop Like This,' aired on the official YouTube channel of Studio Lululala.
The concept photo and music video released at the same time as the album contains NATURE's vibrant charm and an unconventional genre transformation, attracting attention.
First, NATURE in the concept photo is exuding intense charisma by adding chain accessories to the alluring burgundy-colored leather outfit. They completed a neat and lively image with a high-burn hair style tied up high.
In addition, through the music video for 'RICA RICA,' they overwhelmed the public's attention with bright energy and overflowing excitement.
Notably, the addictive performance with the motif of the Côte D'Ivoire dance doubled the fresh charm. This choreography revealed the production process through 'NATURE Can't Flop Like This.'
Also, fans' reaction to the group's performance released in the music video is hot.
Fans are welcoming NATUREs new challenges with comments such as 'NATURE's potential has exploded," "The colorful and addictive performance is overwhelming," "Refrain's impact is the best," and "The songs, costumes, and dances are all amazing."
'RICA RICA' is a dance song that modern people who have a frustrating time can enjoy with. It features a heavy and intense afrobeat rhythm and synth bass. Myungsun Yoon, a hit song maker who made Yoonjeong Jang's 'Oh My Goodness' and Super Junior-T's 'Rokkugo!!!,' collaborated with the group to create another addictive song.
Meanwhile, Kpop group NATURE, which returned with its special album 'RICA RICA' about a year and a half after its previous album, 'NATURE WORLD: CODE M,' will meet fans through active music activities and release a full-length album in the future.
Read More About: Sungwoon Ha To Release A Special Album 'YOU' On Feb. 9 + Pre-order Starts Today!
best Kpop girl group
,
best kpop news site
,
best kpopstar
,
breaking news kpop
,
daily kpop news
,
Fandom
,
Korean celeb news
,
Korean singer
,
Korean singer songwriter
,
KPOP
,
Kpop album
,
Kpop beauty routine
,
Kpop boy group
,
kpop celebrity news
,
Kpop chart and news
,
Kpop colllaboration
,
KPOP comeback
,
Kpop current news
,
kpop daily news
,
Kpop fashion
,
Kpop girls group
,
kpop group NATURE
,
kpop group Super Junior
,
Kpop idols
,
Kpop issues
,
Kpop latest news
,
Kpop music chart
,
Kpop nature
,
Kpop news
,
Kpop news articles
,
Kpop news sites
,
kpop news update
,
Kpop recent news
,
Kpop skin care routine
,
Kpop skincare routine
,
kpop super junior
,
KPop trending news
,
KPOPNEWS
,
NATURE
,
NATURE kpop
,
NATURE members
,
NATURE news
,
South Korean singer songwriter
,
sungmin
,
Super Junior
,
super junior members
,
super junior news
,
the best kpop girl group
,
the best kpop girl group of 2021
,
the best kpop group of 2021
,
the top kpop group
,
top kpop boy group
,
top kpop girl group