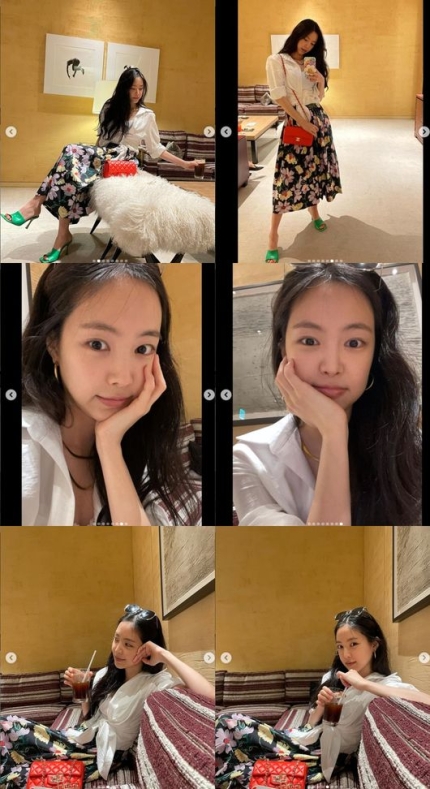 Naeun Son, a singer and actress from the group APink showed off her innocent beauty after transferring to her agency, YG Entertainment.
Yesterday, June 6th, she posted several photos without any special caption through her personal Instagram account.
In the published photo, Naeun Son is showing off her innocent yet feminine body figure. She matched her white shirt with a floral skirt.
Particularly, she is staring at the camera, revealing her face without makeup. So, even without special makeup, she shows off her extraordinary beauty. It captured the attention of fans.
Above all, fans welcomed the news of her recent move to YG.
Fans said, "Is Jennie's feeling overlap in the selfie picture?"
"Our pretty Naeun Son, Fighting for her future activities."
"I'm healed by looking at her beauty."
Recently, Naeun Son signed an exclusive contract with YG Entertainment and moved to her new agency. Except for Naeun, the five Apink members (Chorong Park, Bomi Yoon, Eunji Jung, Namjoo Kim, and Hayoung Oh) have renewed their contracts with their current agency PlayM Entertainment.
Read More About: TXT, #1 On Japan Line Music Daily Chart For 6 Days
2021 kpop news
,
2021 kpop updates
,
APINK
,
apink chorong
,
Apink Eunji
,
apink kpop
,
apink naeun
,
apink news
,
APINK OHHAYOUNG
,
apink_jiyeon
,
Apink_Naeun
,
KPOP
,
Kpop 2021
,
Kpop artist
,
Kpop artists
,
Kpop idols
,
Kpop news
,
kpop Son Naeun
,
Kpop trend
,
Kpop trending
,
KPop trending news
,
Kpop trending now
,
kpop trending update
,
KPOP2021
,
Kpopall
,
KPOPIDA
,
KPOPNEWS
,
naeun apink
,
Trending
,
trending 2021
,
trending kpop
,
Trending Kpop news
,
trending kpop update
,
trending news
,
trending update kpop