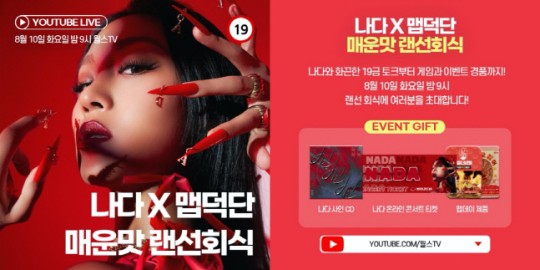 Singer NADA, who made a comeback with the new song 'Spicy,' will host an online cable dinner with the '19K Gold Concept' at 9 pm on August 10th. According to the agency World Star Entertainment, NADA will host a live streaming event with the concept of an online cable dinner through the official YouTube channel of her agency World Star Entertainment. It will run for one hour from 9 pm to 10 pm on August 10th.
This broadcast is a special planned content with Map Day, a brand specializing in spicy foods, and plans to communicate with viewers with existing spicy taste segments.
They will surely present a proper 'spicy flavor party' through a 19-karat gold talk show where 10 Map Day's publicity group members will share a drink and a deep story. Also, they will do a Q&A corner that answers viewers' questions without a break.
Singer NADA has been receiving love for her honest and simple appearance. This time, she plans to radiate her differentiated charm through customized live content and have a rich time with her hot and spicy style.
Previously, Nada released a new song, 'Spicy' on July 31st. This song contains a dreamy synth lead theme and a powerful drum beat, and repetitive deep bass.
Read More About: MIRAE Revealed 'SPLASH' Comeback Scheduler
Korean celeb news
,
KPOP
,
Kpop artist
,
Kpop artists
,
kpop celebrity news
,
Kpop latest news
,
kpop latest updates
,
KPOP NADA
,
Kpop news
,
Kpop recent news
,
Kpop trending
,
KPop trending news
,
KPOP2021
,
KPOPIDA
,
KPOPNEWS
,
latest kpop news
,
latest kpop updates
,
NADA
,
NADA kpop
,
NADA new single
,
NADA news ingle
,
NADA_SPICY
,
recent kpop news
,
singer NADA
,
Trending
,
trending 2021
,
trending kpop
,
Trending Kpop news
,
trending kpop update
,
trending news
,
trending update kpop