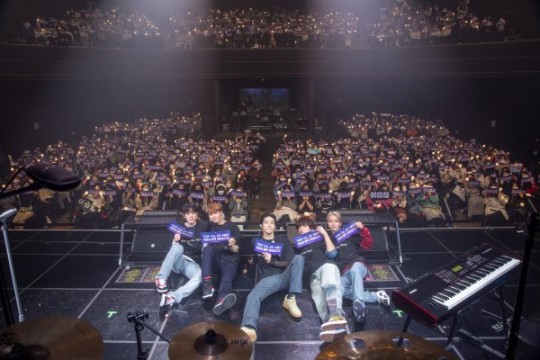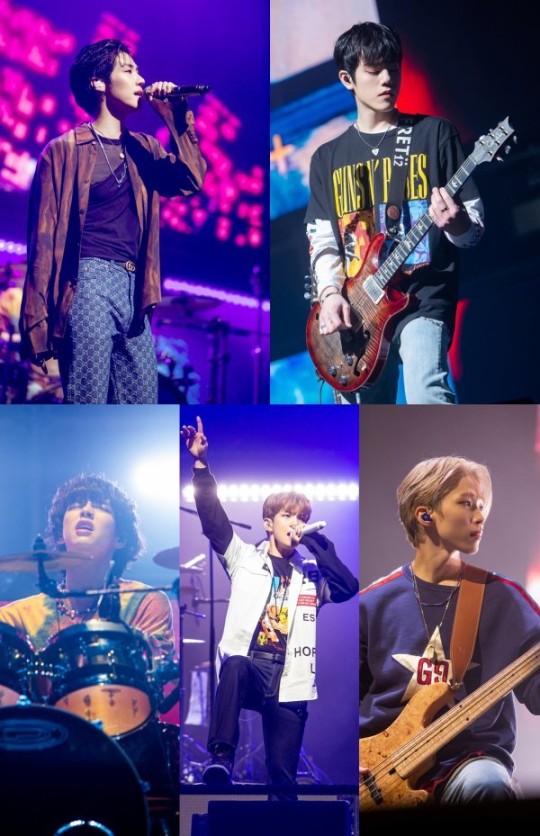 The Kpop band N.Flying (Seunghyub, Hun, Jaehyun, Hweseung, and Dongsung) met the fans with the hot band sound and impressed them.
On February 5 and 6, N.Flying held the exclusive concert '2022 N.Flying Live' &CON '- Man on the Moon' at YES24 Live Hall in Gwangjin-gu, Seoul. This is a solo concert held in about one year and seven months. The performance on the last day aired live online, providing a place for fans who could not come to the venue.

N.Flying opened the door to the concert with the first song, 'Moonshot,' the title song of their first full album, 'Man on the Moon,' released last year. Since then, the atmosphere raised with songs that have received great love, such as 'Hot Potato,' 'STARLIGHT,' 'GOOD BAM,' and 'Rooftop.'
Mainly, they sang the Korean version of 'Stand by me,' the title song of their first Japanese full album released in 2019, and 'Awesome,' the debut song of the first domestic mini-album released in 2015, completing a meaningful setlist.
At the concert, cheering methods to match the rhythm with the band's sound and the atmosphere corresponding to the song appeared, and the spectacle unfolded. Fans used applause, foot rolling, and cheering motions to enrich the performance according to a diverse setlist, giving them a fresh impression.

N.Flying said, "We will run without resting until we're 80 years old. We hope you remember it as a good memory and go back. We're grateful," expressing their sincere gratitude.
Kpop band N.Flying expressed gratitude to fans who filled the concert hall by singing 'To You' and 'Flashback' as encores. So, fans held slogans as a response and shared the impression of the concert to complete the two-day concert.

Read More About: CRAVITY Drops New Album Concept Film!
best Kpop girl group
,
best kpop news site
,
best kpopstar
,
breaking news kpop
,
daily kpop news
,
Fandom
,
Hip-hop Idol JIN
,
Jin
,
JIN news
,
Korean celeb news
,
Korean singer
,
Korean singer songwriter
,
KPOP
,
Kpop album
,
Kpop beauty routine
,
Kpop boy group
,
kpop celebrity news
,
Kpop chart and news
,
Kpop colllaboration
,
KPOP comeback
,
Kpop current news
,
kpop daily news
,
Kpop fashion
,
Kpop girls group
,
kpop idol JIN
,
Kpop idols
,
Kpop issues
,
Kpop latest news
,
Kpop music chart
,
Kpop news
,
Kpop news articles
,
Kpop news sites
,
kpop news update
,
Kpop recent news
,
Kpop skin care routine
,
Kpop skincare routine
,
KPop trending news
,
KPOPNEWS
,
Singer JIN
,
South Korean singer songwriter
,
the best kpop girl group
,
the best kpop girl group of 2021
,
the best kpop group of 2021
,
the top kpop group
,
top kpop boy group
,
top kpop girl group