Rapper Munchman, who appeared on Mnet's 'Show Me the Money 9,' denied the allegation of narcotic overdose.
Munchman said on his Instagram on July 14th, "The overdose of narcotic psychotropic drugs is not true. After being hospitalized for early psychosis, I was treated well and get discharged."
Then, he added, "I want to say thank you to each and every one of you. But, my phone broke, and all my contacts were blown."
In fact, he became popular through 'Show Me the Money 9.'
Munchman attracted the attention of fans through the song 'VVS' (Feat. JUSTHIS) (Prod. GroovyRoom),' which he sang with Mirani, Khundi Panda, and Mushvenom.
In April, Munchman caught the attention of the public when he published sniping revelations. Then, he was investigated by the police for allegations of overusing narcotic drugs. Also, he even posted a message hinting at an extreme choice, which surprised his fans.
◆ This is the full text of Munchman's Instagram post.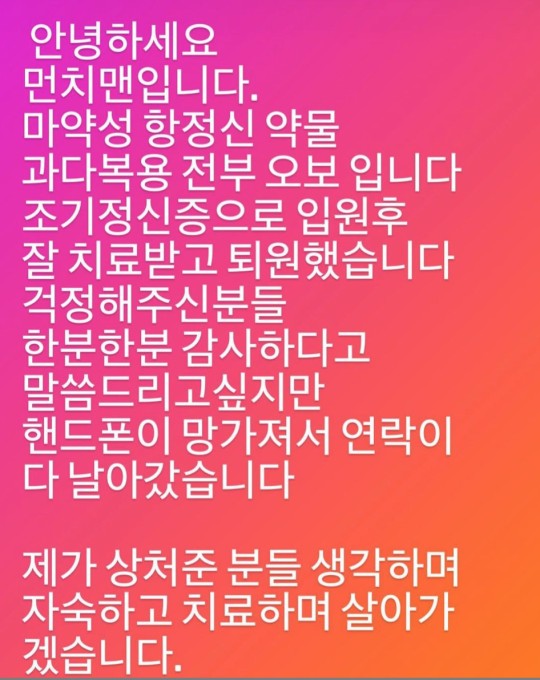 Read More About: Woo!Ah! Shakes The Stage With 'Pandora'
2021 kpop
,
2021 kpop news
,
2021 kpop news updates
,
2021 kpop updates
,
2021 news kpop
,
2021 updates on kpop
,
KPOP
,
Kpop 2021
,
Kpop artist
,
Kpop artists
,
Kpop idols
,
kpop munchman
,
kpop munchman news
,
Kpop news
,
Kpop trend
,
Kpop trending
,
KPop trending news
,
Kpop trending now
,
kpop trending update
,
KPOP2021
,
Kpopall
,
KPOPIDA
,
KPOPNEWS
,
Kpopnews 2021
,
Kpopnews2021
,
Mnet
,
munchman kpop
,
rapper munchman
,
show me the money 9
,
Trending
,
trending 2021
,
trending kpop
,
Trending Kpop news
,
trending kpop update
,
trending news
,
trending update kpop