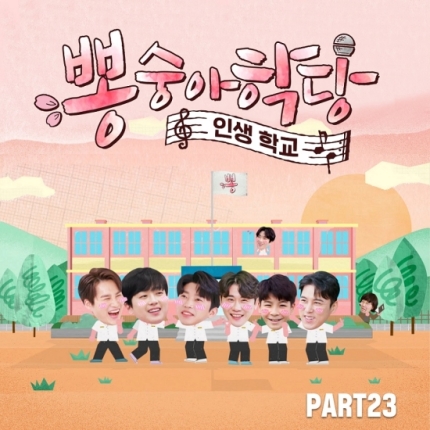 The performances of TV Chosun's 'Mulberry School,' which filled the small screen with excitement, were released as songs.
The songs sung by the Trotmen on TV Chosun's 'Mulberry School,' aired on June 16th, were released on various music sites at 12 pm today, June 21st.
This album contains a total of three songs. It includes Youngwoong Lim's 'Bk Love', Heejae Kim's 'I Will Show You', and Chanwon Lee's 'Same Pillow.'
In the broadcast on this day, TOP6 held a match to decide on a duet partner of fate in a breathtaking sense battle ahead of the hosting of the second 'Dorandoran Dinner Show' of the 'Mulberry School' mega project 'Dorandoran Duet Show.' Particularly, all-time guests, Wonjun Kim, Kisung Bae, No Brain, and Younghyun Lee, who will duet with TOP6, made their way to various and fascinating performances regardless of genre.
Youngwoong Lim sang 'Bk Love' by MC Sniper. He showed a different twist of charm by showing sweet hip-hop with a spoonful of emotion. The Top6 and the legendary partners raised their hands and enjoyed Youngwoong Lim's rap. In fact, Youngwoong Lim's 'Bk Love,' with 90,000 views on Naver TV, became the title song of the album, which they will release today. Many people are expecting that it will surely attract the attention of music fans.
Heejae Kim selected Ailee's 'I Will Show You.'
He perfectly digested the powerful high notes as well as the splendid performance. He is receiving applauses from the legendary partners. Heejae Kim showed his presence by taking over the stage with an overwhelming performance that combines singing skills.
Chanwon Lee, who sang Tei's 'Same Pillow,' showed a sweet sensibility as if adding a spoonful of honey to his mellow voice. The cast applauded and admired Chanwon Lee, who showed a heart-thumping performance with a ballad rather than a trot.
The 55th episode of 'Mulberry School,' which aired on June 16th, recorded the highest viewership rating of 11.1% per minute based on Nielsen Korea. So, it is maintaining its first place in the entertainment industry on Wednesday night.
So, they will release the 'Mulberry School PART23' through various music sites at 12 noon on June 21st.
Read More About: SEVENTEEN, 'Million Seller' In Just 3 Days Of Comeback
2021 kpop
,
2021 kpop news
,
2021 kpop news updates
,
2021 kpop updates
,
2021 news kpop
,
2021 updates on kpop
,
bk love
,
KPOP
,
Kpop 2021
,
Kpop artist
,
Kpop artists
,
Kpop idols
,
Kpop news
,
Kpop trend
,
Kpop trending
,
KPop trending news
,
Kpop trending now
,
KPOP YOUNGWOONG LIM
,
KPOP2021
,
Kpopall
,
KPOPIDA
,
KPOPNEWS
,
mulberry school part23
,
trending kpop
,
Trending Kpop news
,
trending kpop update
,
trending update kpop
,
tv chosun
,
young woong Lim
,
Youngwoong
,
youngwoong lim kpop
,
youngwoong lim youtube
,
YOUNGWOONG LIM_BK LOVE