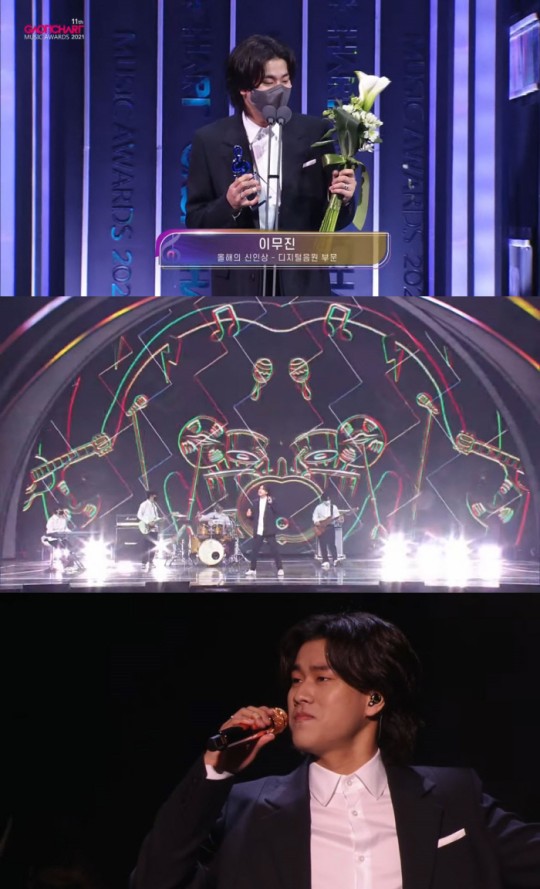 Kpop singer Mujin Lee sweeps through the awards ceremony, revealing an overwhelming presence. At the 11th Gaon Chart Music Awards held at Jamsil Indoor Gymnasium on January 27, Mujin Lee received the Rookie of the Year award in the digital category for 'Scent Of The Day.'
Mujin said, "I think the last reward for my hard work in 2021 will be the Rookie of the Year award from Gaon Chart. Also, I think the last rookie of the year award for a musician like me will be Gaon Chart's Rookie of the Year award."
Mujin Lee continued, "I don't know how long I am officially a rookie in the future. But, as I become a veteran singer, and become an artist who is increasingly familiar with the public, I thought, 'What if I do something that goes away from the appearance of a newcomer.' I would be careful not to do that, but I feel worried about that. Every time, I will work hard as I see this rookie award so as not to lose my mind."
Mujin Lee expressed his gratitude to the fan club 'Limo,' who always provided strong support and to the staff. He said, "I am truly honored to start in the music industry with the current generation of musicians."
In addition, on this day, Mujin Lee attracted the attention of global fans with a spectacular opening performance. With a live band, Mujin presented 'Assignment Song' with humorous facial expressions and witty gestures.
Then, Mujin Lee performed 'Traffic Light,' the 'Reverse Running Myth' last year with the choir. They received full support from the younger generation. Mujin performed a 'luxury live' where you couldn't take your eyes off him for a moment. His relaxed stage manners and unwavering singing skills impressed fans.
On this day, Mujin Lee opened the ceremony. He won the rookie of the year award and performer of the year. award.
'Traffic Light,' released in May of last year, is a song that conveys comfort to young people who have just become adults. It contains lyrics that compare a young student in society to a novice driver on the road. This song captured the concerns of youth and aroused the sympathy of the times. After three months of release, it won the top of song charts and achieved a 'reverse running myth.'
Following 'Traffic Light,' 'Assignment Song,' 'Rain and You,' 'Fall In Fall,' 'When It Snows,' won the top of the music charts. Last year, he had a unique presence as a 'music powerhouse.'
Meanwhile, Kpop singer Mujin Lee has been sweeping various award ceremonies. It includes receiving the Rookie Award, Best OST Award, and TOP10 of the Year Award at the 'Melon Music Awards' last year. Also, he won the Digital Song category at the 36th Golden Disc Awards and the rookie of the year award at the 31st Seoul Music Awards.
Read More About: P1Harmony Announces US Tour Starting In March
best Kpop girl group
,
best kpop news site
,
best kpopstar
,
breaking news kpop
,
daily kpop news
,
Fandom
,
Hip-hop Idol JIN
,
Jin
,
JIN news
,
Korean celeb news
,
Korean singer
,
Korean singer songwriter
,
KPOP
,
Kpop album
,
Kpop beauty routine
,
Kpop boy group
,
kpop celebrity news
,
Kpop chart and news
,
Kpop colllaboration
,
KPOP comeback
,
Kpop current news
,
kpop daily news
,
Kpop fashion
,
Kpop girls group
,
kpop idol JIN
,
Kpop idols
,
Kpop issues
,
Kpop latest news
,
Kpop music chart
,
Kpop news
,
Kpop news articles
,
Kpop news sites
,
kpop news update
,
Kpop recent news
,
Kpop skin care routine
,
Kpop skincare routine
,
KPop trending news
,
KPOPNEWS
,
Mujin Lee
,
mujin lee traffic light
,
Singer JIN
,
singer Mujin Lee
,
South Korean singer songwriter
,
the best kpop girl group
,
the best kpop girl group of 2021
,
the best kpop group of 2021
,
the top kpop group
,
top kpop boy group
,
top kpop girl group