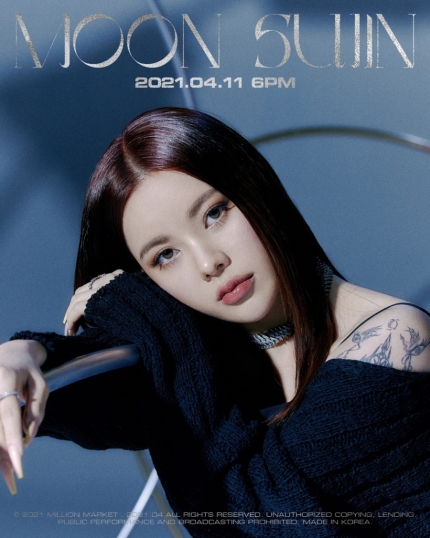 MOON, whose real name is Moon Sujin, is starting out as a 'R&B Voice Goddess.'
Million Market changed the name of MOON's activity to MOON Soo-Jin through the official SNS on the 2nd at 6 pm. Simultaneously, Million Market released a teaser image announcing a new song for release on April 11th.
In the published image, she is staring at somewhere while leaning slightly to one side. Her background featured a deep and hazy blue space. Moon Sujin's clear features and clear skin contrasting with her dark-colored hair attracted attention. Her oblique and profound gaze also arouse curiosity about her new song.
Moon Sujin received attention for her attractive visuals and unique tone. She has established herself as a talented artist by performing active music activities after debuting as MOON in 2018.
Through her own music, she showed her dreamy and lively personality. She maximized her unique charm by showing various synergies through collaboration with Dok2, Gray, Simon Dominic, Sik-K, and Zion T.
Sujin actively participated in the albums of K-pop singers and proved her presence. She also participated in Sehun & Chanyeol's regular album title song '1 Billion Views' and Doo-jun Yoon's 1st mini-album 'Full of Love.'
Recently, she participated with WOODZ's first single track, 'Touché,' and imprinted the existence of a 'goddess of any genre.'
Moon Sujin's new song, which the activity name's changed and announced a full-fledged move this year, will be unveiled at 6 pm on April 11th.
More K-News You Might Be Interested In:
G-Idle Member Sujin, Involved In Severe Secondary Abuse Issue
BTS Jungkook Fan Account Published An Advertisement
BTS Japanese Single Ranked First On Oricon Daily Digital Singles Chart
2021 kpop news
,
2021 kpop news updates
,
2021 kpop updates
,
2021 updates on kpop
,
KPOP
,
Kpop 2021
,
Kpop artist
,
Kpop artists
,
Kpop hottest singer
,
Kpop idols
,
Kpop news
,
Kpop trend
,
Kpop trending
,
KPop trending news
,
Kpop trending now
,
kpop trending update
,
kpop updates
,
KPOP2021
,
KPOPIDA
,
KPOPNEWS
,
Kpopnews 2021
,
Kpopnews2021
,
Kpopstars
,
MOON
,
Moon Sujin
,
R&B Goddess
,
Trending
,
Trending Kpop news
,
trending news