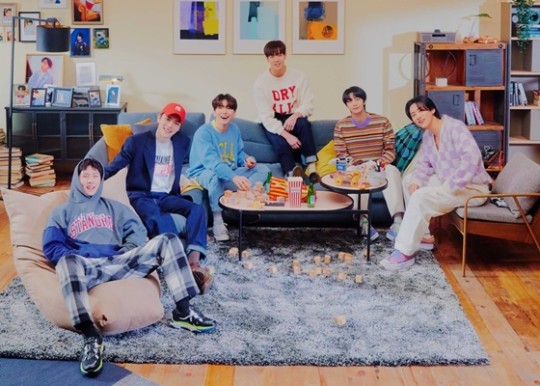 Group MONSTA X continues to be popular in Japan.
MONSTA X topped the Billboard Japan weekly chart with its recently released third full-length album, 'Flavors of Love.'
Their new album 'Flavors of love,' released on May 5th, is a regular album released about 1 year and 9 months. This is after their 2nd regular album 'Phenomenon' followed by 'Follow' and 'FANTASIA X.'
In fact, the new album consists of the Japanese version of 'Love Killa,' along with the songs 'Diamond heart,' 'Secret,' 'NEO UNIVERSE,' and many more. There is a total of 11 colorful songs. So, the group is getting hot responses from fans. Particularly, after the release of 'Flavors of love,' they topped the Oricon (No. 1 in the Daily Album Ranking, No. 2 in the Weekly Chart) and Tower Records weekly chart. So, this proves the unchanging status of MONSTA X as a global group.
Also, TBS's famous terrestrial program 'Hayadoki!' broadcasts the news of MONSTA X's achieving No. 1 on the Billboard Japan Weekly Chart. So, it makes the group's popularity even more realistic. 'Hadayoki' is a morning information program that introduces the top 3 of the Billboard Japan charts every Friday.
Earlier, MONSTA X achieved good results by taking the top spot on the Oricon charts and Tower Records charts with their song, 'WANTED,' released in March. In addition, MONSTA X has won a series of Golden Discs for each release. This includes 'SPOTLIGHT,' 'LIVIN' IT UP,' 'Shoot Out,' and 'Alligator.'
Along with this, MONSTA X, who will make a comeback in Korea, will return with their ninth mini-album, 'One Of A Kind.' It is about 7 months after their third full-length album, 'Fatal Love,' released in November 2020. Fans are expecting that the group will achieve new records in the music industry.
As of now, MONSTA X is making the preparations for the new mini-album 'One Of A Kind.' They are aiming to make a comeback this coming June 1st.
Read More About: OH MY GIRL Ranked 1st At 'The Show Choice'
KPOP
,
Kpop 2021
,
Kpop artist
,
Kpop artists
,
Kpop idols
,
kpop monsta x
,
Kpop news
,
Kpop trend
,
Kpop trending
,
KPop trending news
,
Kpop trending now
,
kpop trending update
,
KPOP2021
,
Kpopall
,
KPOPIDA
,
KPOPNEWS
,
MONSTA X
,
monsta x kpop
,
monsta x news
,
Monsta XX
,
Monsta-X
,
Official Monsta_X
,
Trending
,
trending 2021
,
trending kpop
,
Trending Kpop news
,
trending kpop update
,
trending news
,
trending update kpop