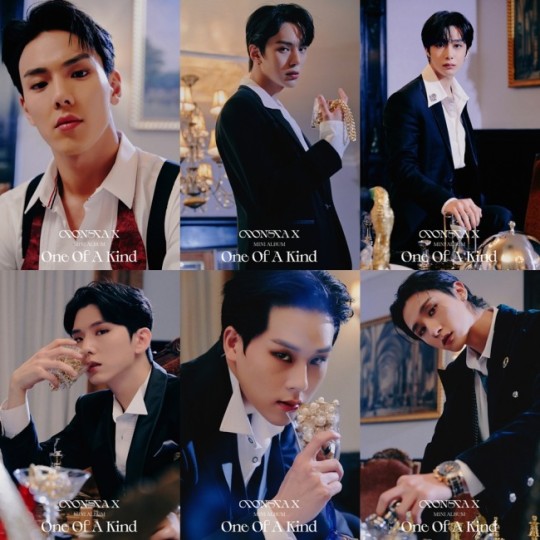 The group MONSTA X has unveiled their dazzling appearances.
On the afternoon of May 18th, MONSTA X posted the first concept photo of their ninth mini-album, 'One Of A Kind,' through their official social media.
Starting with Shownu, the concept photos of all members, includes individuals and group shots. They released the photos sequentially, further amplifying the excitement of the long-awaited fans.
MONSTA X completed a neat styling standard with black hair, black suits, and white shirts in the concept photo. The props and background, decorated with a lavish party concept, create a sophisticated yet luxurious mood.
The members overwhelmed the atmosphere with their high-quality charisma, from intense eye contact to relaxed expressions and poses. Also, in group shots, Shownu and Minhyuk, Kihyun and Jooheon, and Hyungwon and I.M. boasted their dazzling appearance and chemistry. Their appearance perfectly blends in with each other.
MONSTA X stole the hearts of fans by releasing the first concept photo. Also, they plan to release concept photos featuring new visual changes four times until May 25th. So, it is raising expectations for their comeback.
MONSTA X will be making a comeback with the new mini-album 'One Of A Kind' after about 7 months since the 3rd full-length album 'Fatal Love.' Members have built up their musical capabilities by participating in songwriting and composing for each of their albums. Also, they have participated in a number of songs in this new album, making it even more meaningful.
MONSTA X will be releasing their ninth mini album 'One Of A Kind' on all online music sites at 6 pm on the 1st of June.
Read More About: MONSTA X June 1 Comeback, First Concept Photo Released
2021 kpop updates
,
KPOP
,
Kpop 2021
,
Kpop artist
,
Kpop artists
,
kpop monsta x
,
Kpop news
,
Kpop trend
,
Kpop trending
,
KPop trending news
,
Kpop trending now
,
kpop trending update
,
KPOP2021
,
KPOPIDA
,
KPOPNEWS
,
MONSTA X
,
monsta x kpop
,
monsta x news
,
Monsta XX
,
monsta_X-Kihyun
,
Monsta-X
,
MonstaX_Minhyuk
,
Trending
,
trending 2021
,
trending kpop
,
Trending Kpop news
,
trending kpop update
,
trending news
,
trending update kpop