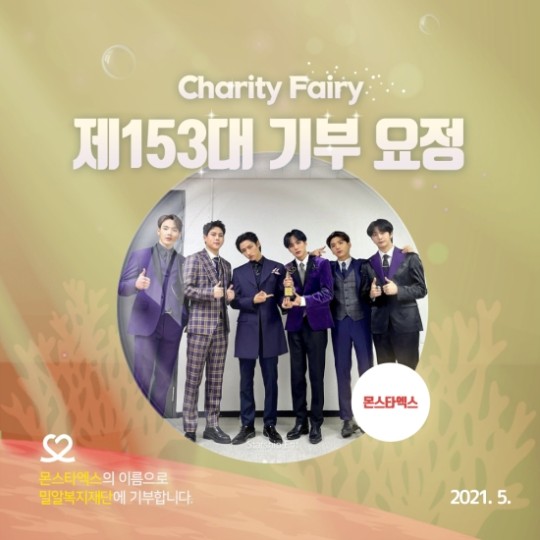 'Choeaedol' selected the group MONSTA X as the 153rd Charity Fairy.
On May 14, MONSTA X received 58,938,980 votes from their fandom MONBEBE on the idol ranking service 'Choeaedol' and was named the charity fairy. 'Choeaedol' selected the charity angel if it achieves first place by converting its cumulative ranking over the past 30 days. Then, a charity fairy if it achieves more than 55.5555 votes on various anniversaries.
The number 14 added meaning to the 6th debut anniversary of MONSTA X, which became a charity fairy. Monbebe can give the group a gift for their 6th anniversary by sending congratulatory messages with the hashtags '#Monsta X 6th Anniversary' and '#514_Remember_This Time' and gathering firepower to vote.
Earlier, the group hosted a small party through the V Live 'MONSTA X 6th Anniversary.'
This is to mark the 6th anniversary of their debut. They expressed their gratitude to the fans who have been with them since their debut. MONSTA X, which debuted with 'Trespass' in 2015, will release their new album 'One Of A Kind' on June 1.
In fact, MONSTA X became a donation fairy for the first time. They achieved a cumulative donation of 500,000 won. In the group's name, donations to the Millal Welfare Foundation will proceed to disabled people isolated from Covid-19. The total accumulated donation amount of Choeaedol amounts to 226.5 million won.
Read More About: TXT 'The Chaos Chapter: FREEZE' Concept Photo Released
2021 kpop news
,
2021 kpop updates
,
KPOP
,
Kpop 2021
,
Kpop artist
,
Kpop artists
,
Kpop idols
,
kpop monsta x
,
Kpop news
,
Kpop trend
,
Kpop trending
,
KPop trending news
,
Kpop trending now
,
kpop trending update
,
KPOP2021
,
KPOPIDA
,
KPOPNEWS
,
MONSTA X
,
monsta x kpop
,
monsta x news
,
Monsta XX
,
Monsta-X
,
Official Monsta_X
,
Trending
,
trending 2021
,
trending kpop
,
Trending Kpop news
,
trending kpop update
,
trending news
,
trending update kpop