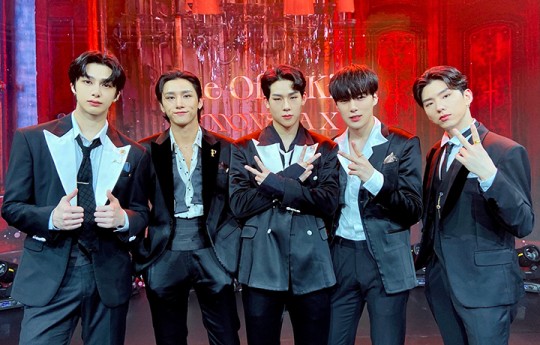 The group MONSTA X presented a comeback show.
On the afternoon of June 1st, MONSTA X held a comeback show to commemorate the release of their ninth mini-album, 'One Of A Kind,' through Naver NOW.
On this day, MONSTA X hosted Naver NOW. Countdown Live 30 minutes before its release and celebrated their comeback with fans around the world in real-time. Particularly, Jooheon revealed the story until the birth of 'GAMBLER.'
It is even more special as Jooheon was in charge of producing his first title song after six years since his debut.
In addition to explaining that 'GAMBLER' was completed after numerous meetings and revisions, Jooheon also showed extraordinary confidence. He said, "Our concept is so clear that I wonder if there is a group that can digest this song better than us."
Then, MONSTA X, who appeared on '#OUTNOW' held on the same night, could not hide their excitement. They said, "This week's Naver NOW. is MONSTA X Week.'
The group proved the title of 'Best Album' by generously releasing the colorful composition and behind-the-scenes of 'One Of A Kind.'
In addition, MONSTA X, who praised each other's visuals and showed off their teamwork in a warm atmosphere, communicated with Shownu in real-time comments, comforting the fans a little bit and smiling at the viewers.
Also, Kihyun performed the song 'Addicted' in line with Jooheon's beatbox. They also unveiled the live performance of the song 'BEBE' and 'GAMBLER.'
Hyungwon participated in writing the lyrics for the first time. The members wrapped up the comeback show, packed with excellent composition.
After successfully completing their comeback show, MONSTA X will begin full-fledged activities with 'GAMBLER.'
Read More About: NCT 127 & Amoeba Culture Project Album 'Save' Released Today
2021 kpop updates
,
KPOP
,
Kpop 2021
,
Kpop artist
,
Kpop artists
,
Kpop idols
,
kpop monsta x
,
Kpop news
,
Kpop trend
,
Kpop trending
,
KPop trending news
,
Kpop trending now
,
kpop trending update
,
KPOP2021
,
Kpopall
,
KPOPIDA
,
KPOPNEWS
,
MONSTA X
,
monsta x kpop
,
monsta x news
,
MONSTA X news kpop
,
Monsta XX
,
monsta_X-Kihyun
,
Monsta-X
,
Trending
,
trending 2021
,
trending kpop
,
Trending Kpop news
,
trending kpop update
,
trending news
,
trending update kpop