MONSTA X plans to resume overseas tours starting January next year.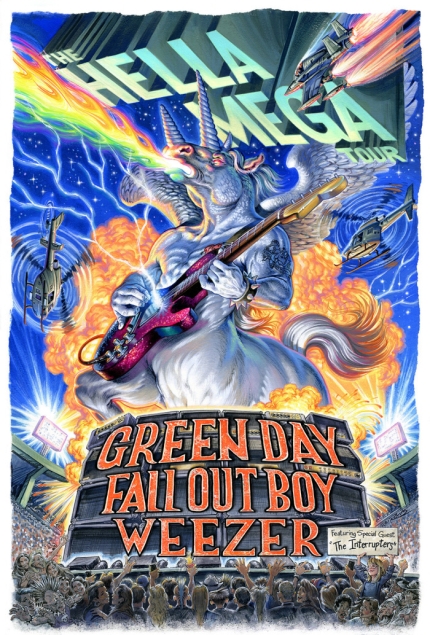 As the United States spurs the recovery of daily life with vaccination, large-scale live performances and music festivals of pop stars continue. So, plans for the resumption of rock stars tours were also announced one after another.
On June 20th (EST), America's leading rock band Foo Fighters held a concert at Madison Square Garden in New York, a venue called 'the most famous arena in the world.'
It's the first time since March 2020 that a live performance will take place at Madison Square Garden. "This is the first time in more than 15 months that there's a show without distancing, masks, or limited number of people," said NPR, a US public radio station.
Audiences entered the concert hall after certifying the completion of the coronavirus vaccination.
The Foo Fighters' performance that day is symbolic of the 'Return Of Live.' 
Madison Square Garden, home to the New York Knicks of the NBA, is a world-class performance spot. It is where top pop stars such as Michael Jackson, Madonna, Beyonce, and Taylor Swift have gone through.
The Foo Fighters planned a tour to commemorate their 25th-anniversary last year but had to postpone it due to the pandemic. Leader Dave Grohl said before the performance, "We've been waiting for this day for over a year."
At the concert hall, cheers from the audience poured in. Also, there's a surprise performance where famous American comedian Dave Chapelle appeared and sang Radiohead's 'Creep,' which attracts attention.
Famous rock festivals held or postponed non-face-to-face during the pandemic are also planning to hold offline events.
The US online radio platform iHeartRadio announced on June 16th that they would host the '2021 iHeartRadio Music Festival.'
It will take place at T-Mobile Arena in Las Vegas from September 17th to 18th. The performers include Billie Eilish, Coldplay, Dua Lipa, Maroon 5, Lil Baby, and more.
"This year is going to be a historical festival for many reasons," said Tom Poleman, chief programming officer at iHeartMedia. "It's not the first time that all these artists are on the same stage. But, it's good that they'll be performing in front of the audiences."
The 'Coachella Valley Music and Arts Festival,' one of America's leading music festivals, also recently announced its rescheduled plan to April 15-17 and 22-24 next year.
The Coachella Festival is an annual music festival in 'Coachella Valley,' a desert area in Indio, California. It attracts more than 250,000 people every year. Unfortunately, the festival that supposedly scheduled in April last year, needs to be postponed several times due to the pandemic.
Pop stars are also announcing their tour schedule one after another. Harry Styles, a former member of the boy band One Direction, will tour from August, and R&B star John Legend from September.
Green Day, Fallout Boy, and Weezer's joint tour 'The Hella Mega Tour' begins in Dallas, Texas on the 24th of July.
Billie Eilish and Justin Bieber are also planning to start a new tour in February next year.
In addition, K-pop star MONSTA X announced on their official social media on May 25th their plans to tour 13 cities in the United States and Canada between January and February next year. So, MONSTA X will soon meet their fans live.
Read More About: Minho Song, Esquire's July 2021 Edition Cover Model
2021 kpop
,
2021 kpop news
,
2021 kpop news updates
,
2021 kpop updates
,
2021 news kpop
,
2021 updates on kpop
,
KPOP
,
Kpop 2021
,
Kpop artist
,
Kpop artists
,
Kpop idols
,
kpop monsta x
,
Kpop news
,
Kpop trend
,
Kpop trending
,
KPop trending news
,
Kpop trending now
,
kpop trending update
,
KPOP2021
,
Kpopall
,
KPOPIDA
,
KPOPNEWS
,
MONSTA X
,
monsta x kpop
,
monsta x news
,
MONSTA X news kpop
,
Monsta XX
,
Monsta-X
,
Official Monsta_X
,
Trending
,
trending 2021
,
trending kpop
,
Trending Kpop news
,
trending kpop update
,
trending news
,
trending update kpop