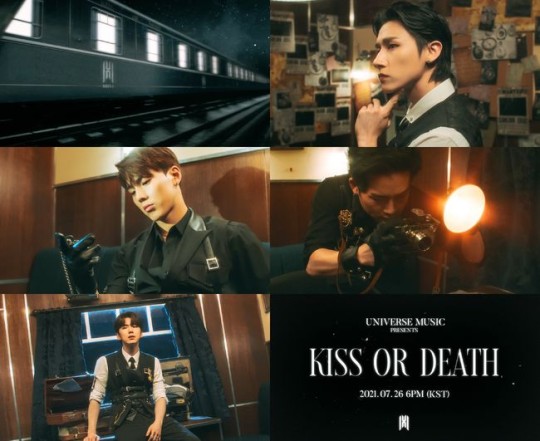 MONSTA X is going to dig up a mystery case in earnest.
NCsoft and Kleb released the 'Crime Scene' music video teaser video of MONSTA X's new song 'KISS OR DEATH' on July 21st through the Universe app and their official social media channel.
In the released teaser video, MONSTA X quickly crossed the incident scene in an express train. They are running through thick clouds, creating a sharp tension. Particularly, it shows the urgency of each member as if they were trying to uncover a mysterious case. The sound with a beat is reminiscent of a strong suspense movie, heightening their immersion level.
Also, at the end of the video, the mysterious appearance of Shownu and Kihyun looking at the pocket watch with their hands spinning quickly raises curiosity. Particularly, like the pocket watch described in the previously released concept photo and concept trailer video, attention focuses on how it will be present in the music video.
MONSTA X not only topped the World Digital Song Sales charts through 'One Of A Kind,' released in June. But, they also received favorable reviews from Forbes and Grammy.com, the US economic magazine. As such, they once again proved their unique global popularity. The collaboration between Universe Music and MONSTA X, which have different worldviews, foreshadows the best synergy once again.
MONSTA X's new universe song, 'KISS OR DEATH,' will be out on various music sites at 6 pm on July 26th. In addition, they will release the full version of the music video exclusively through the Universe app.
Read More About: SSF Shop Collaborates With Various K-Pop Artists
2021 kpop
,
2021 kpop news
,
2021 kpop news updates
,
2021 kpop updates
,
2021 news kpop
,
2021 updates on kpop
,
Kihyun_Monsta_X
,
KISS OR DEATH mONSTA X
,
KPOP
,
Kpop 2021
,
Kpop artist
,
Kpop artists
,
kpop monsta x
,
Kpop news
,
Kpop trending
,
KPop trending news
,
Kpop trending now
,
kpop trending update
,
KPOP2021
,
KPOPIDA
,
KPOPNEWS
,
Kpopnews 2021
,
Kpopnews2021
,
MONSTA X
,
monsta x kpop
,
monsta x news
,
MONSTA X news kpop
,
monsta x_shownu
,
Monsta XX
,
monsta_X-Kihyun
,
Monsta-X
,
Official Monsta_X
,
Trending
,
trending 2021
,
trending kpop
,
Trending Kpop news
,
trending kpop update
,
trending news
,
trending update kpop