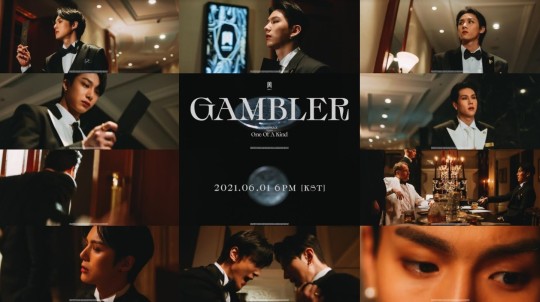 The comeback of the group MONSTA X is just a day away.

MONSTA X posted the second music video teaser for the title track 'GAMBLER' of its ninth mini-album 'One Of A Kind' on its official social media on the afternoon of May 30th.

The members in the released video are heading to the same place, dressed in black suits and carrying mysterious invitations. The door opens, and the members gather together to face each other and confront each other in a tense manner. It is raising the curiosity of the fans.

In the process, Minhyuk and Kihyun grabbed each other by the collar, forming an atmosphere where something big was about to explode. The members' intense eye acting in the close-up is making viewers breathless.

They already revealed the prepared music video teasers and the whole concept of 'GAMBLER.' But, the curiosity about MONSTA X's comeback, which is approaching a day ahead, is increasing.

'One Of A Kind' is a meaningful scene in which the members established themselves as 'all-round artists.'
Jooheon and I.M were named in the credits for all songs. While Hyungwon participated with his self-composed songs such as 'Secrets' and 'BEBE.,' It makes MONSTA X's unique personality clear.

Particularly, Jooheon will take over the full production of the title song 'GAMBLER' for the first time in six years since his debut. He plans to show the culmination of his wide range of musical capabilities so far.

MONSTA X will release the ninth mini-album 'One Of A Kind' and the main music video through various online music sites at 6 pm on June 1st. Then, they will start full-fledged activities.
Read More About: Red Velvet Joy Solo Debut With The Remake Album 'Hello'
2021 kpop news
,
2021 kpop updates
,
KPOP
,
Kpop 2021
,
Kpop artist
,
Kpop artists
,
Kpop idols
,
kpop monsta x
,
Kpop news
,
Kpop trend
,
Kpop trending
,
KPop trending news
,
Kpop trending now
,
kpop trending update
,
KPOP2021
,
Kpopall
,
KPOPIDA
,
KPOPNEWS
,
MONSTA X
,
monsta x kpop
,
monsta x news
,
MONSTA X news kpop
,
Monsta XX
,
monsta_X-Kihyun
,
Monsta-X
,
MonstaX_Minhyuk
,
Official Monsta_X
,
Trending
,
trending 2021
,
trending kpop
,
Trending Kpop news
,
trending kpop update
,
trending news
,
trending update kpop