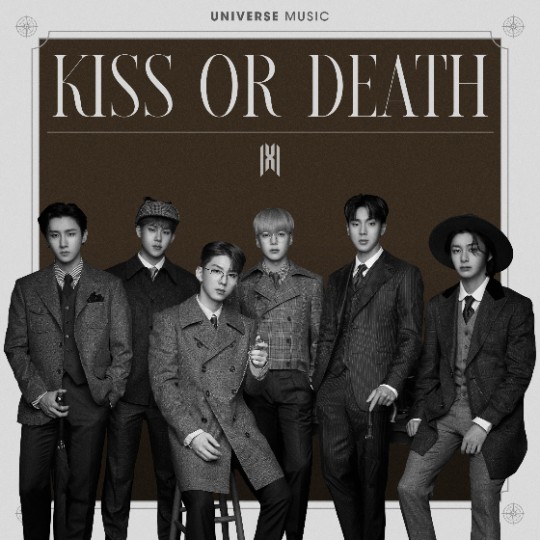 The group MONSTA X will release a new song through the K-pop entertainment platform UNIVERSE.
On July 15th, NCsoft and Kleb, which operates the UNIVERSE, said, "MONSTA X's new song 'KISS OR DEATH,' which UNIVERSE Music will present, will be out on July 26 at 6 pm."
In addition, on July 14th, they released the scheduler and cover image through the universe app and official social media.
According to the released scheduler, they will release the universe concept photo on July 16th and the concept trailer 'THE ONE' on July 19th. Then, they will release the 'Crime Scene' version on July 21st and the 'Time Warp' version video teaser on July 23rd. So, the enthusiasm for the new song continues.
Fans are paying attention to the cover image of the new song 'KISS OR DEATH.'
In the published image, MONSTA X completes the classic mood with a classic suit full of sophistication. They are wearing unique accessories such as a fedora, pocket chief, and pocket watch. It is raising curiosity about the new concept of MONSTA X.
MONSTA X showed off its global box office power with the ninth mini album 'One Of A Kind,' released in June. Particularly, the title song 'GAMBLER' ranked 5th on the US Billboard World Digital Song Sales Chart. Also, all of the songs in the album occupied the top of the charts. It only proves MONSTA X's global influence once again.
Universe Music released IZ*ONE's 'D-D-DANCE' in January, Sumi Jo x Rain's 'Guardians' in February, Jihoon Park's 'Call U Up (Feat. Lee Hi)(Prod. Primary)' in March, (G)I-DLE's 'Last Dance (Prod. GroovyRoom) in April, Daniel Kang's 'Outerspace (Feat. Loco)' and AB6IX's 'GEMINI' in May, and CIX's 'TESSERACT (Prod. Hui, Minit)' in June. Universe Music will release MONSTA X's 'KISS OR DEATH' following The Boyz's 'Drink It,' released on July 11th. So, fans are paying attention to the release of MONSTA X's 'KISS OR DEATH' and what kind of synergy it will bring.
Read More About: EXO D.O Unveils First Solo Album Title Song
2021 kpop
,
2021 kpop news
,
2021 kpop news updates
,
2021 kpop updates
,
2021 updates on kpop
,
KPOP
,
Kpop 2021
,
Kpop artist
,
Kpop artists
,
Kpop idols
,
kpop monsta x
,
Kpop news
,
Kpop trend
,
Kpop trending
,
KPop trending news
,
Kpop trending now
,
kpop trending update
,
KPOP2021
,
Kpopall
,
KPOPIDA
,
KPOPNEWS
,
MONSTA X
,
monsta x kpop
,
monsta x news
,
MONSTA X news kpop
,
monsta x wonho
,
monsta x_shownu
,
Monsta XX
,
monsta_X-Kihyun
,
Monsta-X
,
MonstaX_Minhyuk
,
Official Monsta_X
,
Trending
,
trending 2021
,
trending kpop
,
Trending Kpop news
,
trending kpop update
,
trending news
,
trending update kpop