The K-pop group MONSTA X's US tour has been postponed due to the spread of the COVID-19 Omicron variant.
On January 21, Starship Entertainment announced the postponement of the MONSTA X US and Canada tour '2022 MONSTA X NO LIMIT US TOUR,' scheduled to take place from January to February, through the official social media of MONSTA X.
The agency said, "Due to the spread of COVID-19, the company and the artist coordinated the schedule so that we can safely conduct the concert. We expect that the tour could resume soon. We decided to introduce a new schedule and venue for May and June."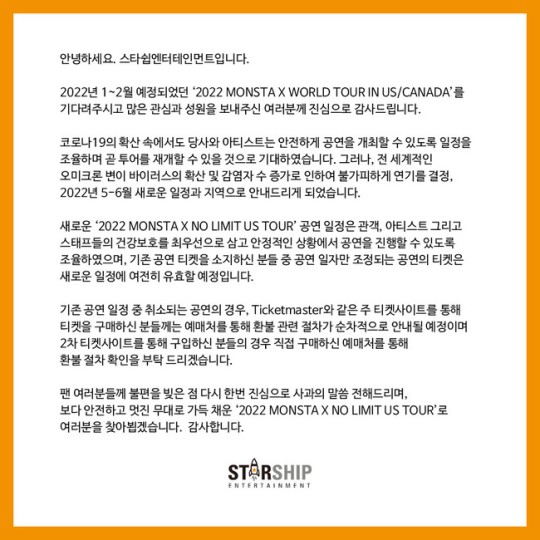 According to the announcement, MONSTA X plans to hold a total of 9 performances. It will start with the New York concert on May 21 and ends with the LA concert on June 11.
The agency said, "We have coordinated the new performance schedule so that the health protection of the audience, artists, and staff can be carried out in a stable situation. We sincerely apologize to the fans once again for the inconvenience. We will visit you with a safer and cooler performance."
K-pop group MONSTA X recently released its second full-length album 'The Dreaming,' which Korean and international music fans loved a lot.
Also, they appeared on the year-end's largest concert, 'Jingle Ball' tour held in LA to promote their US full-length album. MONSTA X successfully completed its US promotions and returned to Korea on December 21 last year. The members are carrying out personal schedules such as radio broadcasts after self-isolation.
Read More About: NATURE Confirms Comeback On Jan. 24 With The Release Of New Album 'RICA RICA
best Kpop girl group
,
best kpop news site
,
best kpopstar
,
breaking news kpop
,
daily kpop news
,
Fandom
,
Hip-hop Idol JIN
,
Jin
,
JIN news
,
Jooheon
,
Kiss Or Death
,
Korean celeb news
,
Korean singer
,
Korean singer songwriter
,
KPOP
,
Kpop album
,
Kpop beauty routine
,
Kpop boy group
,
kpop celebrity news
,
Kpop chart and news
,
Kpop colllaboration
,
KPOP comeback
,
Kpop current news
,
kpop daily news
,
Kpop fashion
,
Kpop girls group
,
kpop idol JIN
,
Kpop idols
,
Kpop issues
,
Kpop latest news
,
kpop monsta x
,
Kpop music chart
,
Kpop news
,
Kpop news articles
,
Kpop news sites
,
kpop news update
,
Kpop recent news
,
Kpop skin care routine
,
Kpop skincare routine
,
KPop trending news
,
KPOPNEWS
,
MONSTA X
,
MONSTA X member
,
MONSTA X members
,
monsta x news
,
MONSTA X updates
,
Singer JIN
,
South Korean singer songwriter
,
Summer Taste
,
the best kpop girl group
,
the best kpop girl group of 2021
,
the best kpop group of 2021
,
the top kpop group
,
top kpop boy group
,
top kpop girl group