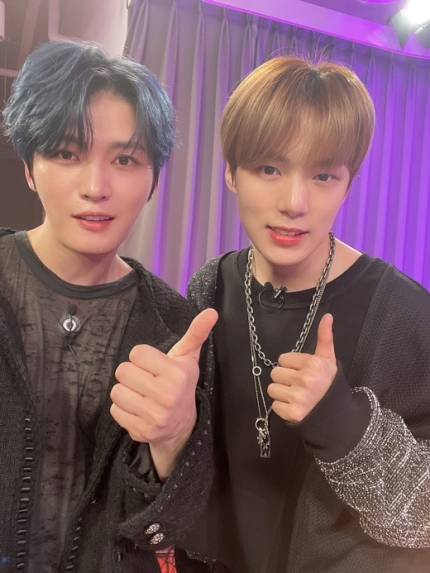 Monsta X member Minhyuk released as taken with Jaejoong Kim.
On April 1st, Minhyuk posted a selfie taken with Jaejoong Kim, leaving a post on MONSTA X's official Twitter. The post says, "The best of the best time is the best." Minhyuk and Jaejoong Kim cutely posed with a thumbs up.
On March 31st, the two met as they both appeared as a guest on Naver Now 'Vogue Want Show' hosted by Minhyuk. Monsta X Minhyuk revealed his fan spirit for Jaejoong and talked about the days when he dreamed of becoming a singer. Minhyuk also presented a bouquet prepared in advance to Jaejoong, who said he likes flowers.
On the other hand, Jaejoong Kim presented a necklace worn at his music video's shooting site. He gave off warm chemistry with his seniors and juniors. Then Minhyuk said shyly, "I heard the sound of resemblance at the beginning of my debut."
Jaejoong Kim, who appeared as a guest, released the Japanese single 'Breaking Dawn' on March 31st. He is now gaining popularity from fans.
Earlier, Monsta X Minhyuk left the SBS show, 'Inkigayo,' and made his final appearance on the show, on February 28th. Whereas Monsta X, which Minhyuk belongs to, faced an issue with member Kihyun regarding school violence suspicion.
Read More: 2NE1_Sandara Showed Off Her Clear Skin
2021 kpop news
,
2021 kpop updates
,
Jaejoong Kim
,
Kim Jaejoong
,
Kpop 2021
,
Kpop artist
,
Kpop artists
,
Kpop idols
,
Kpop news
,
Kpop trend
,
Kpop trending
,
KPop trending news
,
Kpop trending now
,
kpop trending update
,
kpop updates
,
KPOP2021
,
KPOPIDA
,
KPOPNEWS
,
Minhyuk
,
Minhyuk Twitter
,
Minhyuk_Monsta X
,
MONSTA X
,
monsta_X-Kihyun
,
Monsta-X
,
MonstaX_Minhyuk
,
news kpop
,
Trending
,
Trending Kpop news
,
trending news
,
Twitter