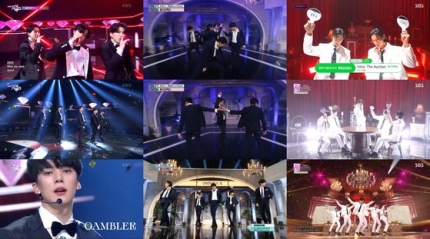 The group MONSTA X successfully transformed into a 'gambler' of a different class.
MONSTA X just made their comeback with the title song 'GAMBLER.'
This is from their ninth mini-album, 'One Of A Kind,' released on June 1st. They started music broadcasting activities since then.
Starting on KBS 2TV's 'Music Bank' on June 4th, MONSTA X also appeared on MBC's 'Show! Music Core' on June 5th and SBS 'Inkigayo' on June 6th. They held special comeback performances, traversing three broadcasting stations. The group attracts attention by presenting a colorful intro stage performance using high-quality sets and props for each broadcast.
First of all, MONSTA X dressed in black suits and bow ties on 'Music Bank.'
It attracts admiration with Jooheon's bold choreography using tables and sophisticated solo introduction by each member. On stage, MONSTA X showed off its powerful performance, including red lights that expressed laser detectors.
Also, 'Show! Music Core' left a strong impression on MONSTA X with an intro stage reminiscent of an attractive thief. MONSTA X performed their basic and stable choreography. They showed their upgraded skills. Also, they completed the stage with colorful sets like music videos and camera production until the end.
In 'Popular Song,' equipped with pure white costumes, MONSTA X showed off their unexpected sexiness. The introduction of the auction house concept, which deals with a number tag, reminds a scene from a blockbuster movie. Member Minhyuk plays as an ending fairy. He properly vents their first week of comeback with a series of performances. They make it seem like a year-end award ceremony.
Especially, MONSTA X is going to show the unique comeback performance in the K-pop scene. They all met with fans through 'Music Bank,' 'Show! Music Core' and 'Popular Song' with different intro performances. So, the group demonstrates its irreplaceable 'Trust-listening Master' (performance to listen and see) aspect. They prepared a set that maximizes the characteristics of 'GAMBLER.' Also, they have fascinating costume concepts and performances.
In fact, the title song, 'GAMBLER,' produced by Jooheon, is attracting attention. It is an impressive song with a heavy bass rhythm and electric guitar sound. The members' rising tension and adlib shine through this song. Also, the lyrics clearly show MONSTA X's unique color. The feelings and confidence they expressed are strong enough to bet everything.
In the meantime, MONSTA X is happy to have completed its first week of 'GAMBLER' comeback. Through its agency, Starship Entertainment, the group said, "Thank you for your support for our ninth mini-album 'One Of A Kind.' We will repay the rest of our activities with the best performance and good health. So, please look forward to it."
MONSTA X is continuing its activities amid global interest. Currently, they are conducting two versions of the 'GAMBLER' challenge through TikTok. Also, they plan to communicate with fans through various music broadcasts and programs.
Read More About: Brave Girls Releases 'Summer Queen' On June 17
Kihyun_Monsta_X
,
KPOP
,
Kpop 2021
,
Kpop artist
,
Kpop artists
,
Kpop idols
,
kpop monsta x
,
Kpop news
,
Kpop trend
,
Kpop trending
,
KPop trending news
,
Kpop trending now
,
kpop trending update
,
KPOP2021
,
Kpopall
,
KPOPIDA
,
KPOPNEWS
,
Minhyuk_Monsta X
,
MONSTA X
,
monsta x kpop
,
monsta x news
,
MONSTA X news kpop
,
Monsta XX
,
monsta_X-Kihyun
,
Monsta-X
,
MonstaX_Minhyuk
,
Official Monsta_X
,
Trending
,
trending 2021
,
trending kpop
,
Trending Kpop news
,
trending kpop update
,
trending news
,
trending update kpop