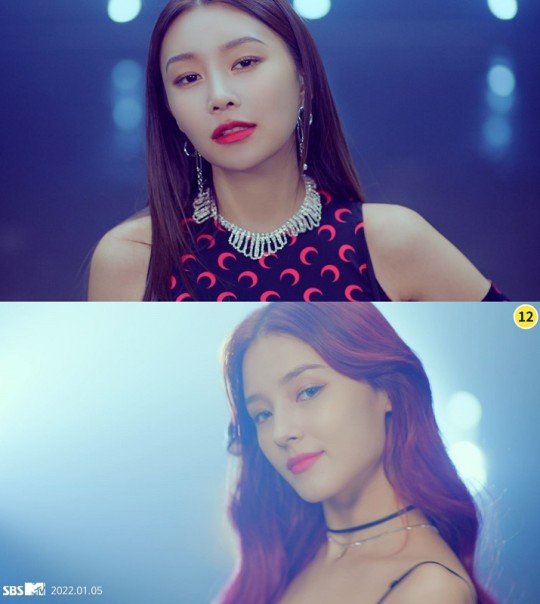 K-pop group MOMOLAND is making a comeback with a funky and sexy charm. Today, January 11, at noon, Momoland gained attention by releasing the last film teaser of the digital single album 'Yummy Yummy Love,' set for release on January 14, through their official social media channel.
As the last runners in the visual film, Hyebin and Nancy came out. Hyebin exuded a cynical charm as she walked out of the dark background. Then, Nancy perfectly captured the funky and sexy concept with a seductive expression under colorful lighting.
Notably, in the video's background, the lyrics 'Yummy Yummy Love,' same as the title of Momoland's new song, flowed out. So, it is raising the curiosity of fans about the new song.
Momoland is releasing various teaser contents sequentially ahead of the release of the new song 'Yummy Yummy Love.'
In fact, this album, to release by Momoland for the first time in about a year, gained attention for its collaboration with world-famous singer Natti Natasha.
So, fans worldwide pay attention to the special meeting between Momoland, who has built a strong overseas fandom with successive hits such as 'BAAM,' 'Banana Chacha,' and 'Thumbs Up' following the mega-hit 'Bboom Bboom,' and world-class singer Natti Natasha.
Meanwhile, K-pop group Momoland plans to release the first music video teaser on January 12 and begin the comeback countdown.
Read More About: AB6IX Unveils Daehwi Lee's Personal Concept Photo For Their Special Album
ahin
,
best Kpop girl group
,
best kpop news site
,
best kpopstar
,
breaking news kpop
,
daily kpop news
,
Fandom
,
girl group momoland
,
Korean celeb news
,
Korean singer
,
Korean singer songwriter
,
KPOP
,
Kpop album
,
Kpop beauty routine
,
Kpop boy group
,
kpop celebrity news
,
Kpop chart and news
,
Kpop colllaboration
,
KPOP comeback
,
Kpop current news
,
kpop daily news
,
Kpop fashion
,
Kpop girls group
,
kpop group momoland
,
Kpop idols
,
Kpop issues
,
Kpop latest news
,
Kpop momoland
,
Kpop music chart
,
Kpop news
,
Kpop news articles
,
Kpop news sites
,
kpop news update
,
Kpop recent news
,
Kpop skin care routine
,
Kpop skincare routine
,
KPop trending news
,
KPOPNEWS
,
momoland
,
momoland members
,
South Korean singer songwriter
,
the best kpop girl group
,
the best kpop girl group of 2021
,
the best kpop group of 2021
,
the top kpop group
,
top kpop boy group
,
top kpop girl group