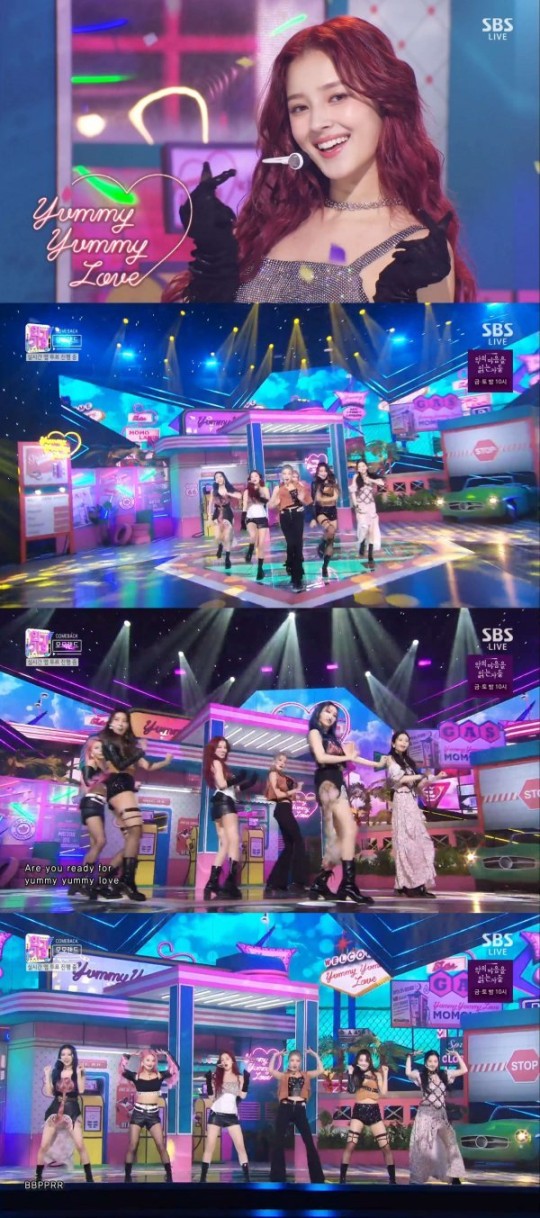 K-pop group MOMOLAND filled the stage with the charm of six people and six colors. Momoland appeared on SBS 'Inkigayo' broadcast on January 16. They presented a comeback performance with the new song 'Yummy Yummy Love.'
On this day, Momoland caught fans' attention with their gorgeous Western-style outfits and styling. The members showed off their colorful charms by perfectly digesting the funky and sexy concept full of personality.
Notably, 'Yummy Yummy Love' proved its global popularity by surpassing 10 million views in the music video within one day of its release.
The new song expresses the sweetness of love in a funky and sexy way. It is a pop dance song with a powerful bass sound and a groovy guitar riff on top of a funky rhythm. In addition, you can see the more matured Momoland's skills by adding a sense of reassurance and colorful ad-libs.
Fans worldwide pay attention to the special meeting between Momoland, who has built a strong overseas fandom with successive hits such as 'BAAM,' 'Banana Chacha,' and 'Thumbs Up' following the mega-hit 'Bboom Bboom,' and world-class singer Natti Natasha.
Meanwhile, K-pop group Momoland is actively making a comeback with the new song 'Yummy Yummy Love.'
Read More About: WEi Yohan Kim Perfectly Presented His Solo Song 'DESSERT' On SBS Inkigayo
ahin
,
best Kpop girl group
,
best kpop news site
,
best kpopstar
,
breaking news kpop
,
daily kpop news
,
Fandom
,
girl group momoland
,
Korean celeb news
,
Korean singer
,
Korean singer songwriter
,
KPOP
,
Kpop album
,
Kpop beauty routine
,
Kpop boy group
,
kpop celebrity news
,
Kpop chart and news
,
Kpop colllaboration
,
KPOP comeback
,
Kpop current news
,
kpop daily news
,
Kpop fashion
,
Kpop girls group
,
kpop group momoland
,
Kpop idols
,
Kpop issues
,
Kpop latest news
,
Kpop momoland
,
Kpop music chart
,
Kpop news
,
Kpop news articles
,
Kpop news sites
,
kpop news update
,
Kpop recent news
,
Kpop skin care routine
,
Kpop skincare routine
,
KPop trending news
,
KPOPNEWS
,
momoland
,
momoland members
,
South Korean singer songwriter
,
the best kpop girl group
,
the best kpop girl group of 2021
,
the best kpop group of 2021
,
the top kpop group
,
top kpop boy group
,
top kpop girl group