'2021 Super Rookie' Kpop group MIRAE member Yubin Jang presented a shocking transformation. DSP Media released a concept photo of Yubin Jang's 'Splash – MIRAE 2nd Mini Album' on MIRAE's official social media at midnight on August 18th.
Yubin Jang exudes a new charm with light purple hair. In the HOT version, he captured the hearts of fans through his enchanting eyes. In the subsequent COOL version, an all-time 'boyfriend look' created with Yubin Jang's radiant smile was expressed, attracting the attention of fans.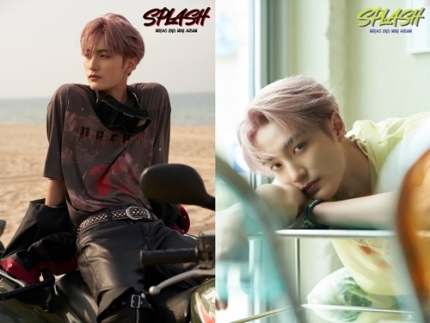 So, global Kpop fans' expectations for MIRAE's comeback are rising as Yubin Jang captivates women's hearts with charms he hasn't shown in his debut activities.
As they released the concept photo of Yubin Jang, the last runner in the concept photo for MIRAE 'Splash' will be the leader, Junhyuk Lee. Accordingly, fans' interests are growing about what kind of look the charismatic 'Leader' will show this time.
MIRAE members Junhyuk Lee and Khael participated in writing the songs on the 'Splash' album, just like they did on the previous album. They are going to show MIRAE's musical growth and passion. In addition, following their debut album, KARD BM also participated in writing the lyrics this time, showing off their friendship.
MIRAE will reveal the music video teasers 1 and 2 of the title song 'Splash' on August 22nd and 23rd, respectively. Then, on August 24th, one day before their comeback, they will present the album spoiler with previews of all the songs, hoping to thrilled fans around the world.
Kpop group MIRAE will release the second mini-album 'SPLASH' at 6 pm on August 25th and join the 'August Comeback Battle.'
Read More About: ATEEZ Mingi Appeared On A Large Billboard Display In Times Square, NY
Jang Yubin
,
KPOP
,
Kpop artist
,
Kpop artists
,
KPOP GROUP MIRAE
,
Kpop news
,
Kpop trend
,
Kpop trending
,
KPop trending news
,
kpop trending update
,
KPOP2021
,
KPOPIDA
,
KPOPNEWS
,
MIRAE
,
mirae group MIRAE new
,
mirae member
,
mirae members
,
MIRAE news
,
MIRAE SPLASH
,
MIRAE_KILLA
,
rookie group MIRAE
,
SPLASH album
,
Trending
,
trending 2021
,
trending kpop
,
Trending Kpop news
,
trending kpop update
,
trending news
,
trending update kpop
,
yubin jang