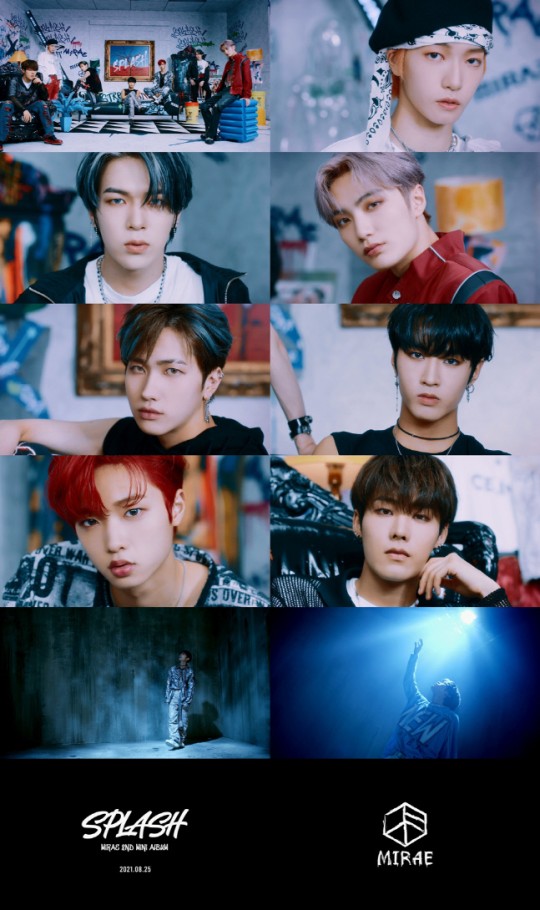 Kpop group MIRAE has made a splendid rise as a 'concept master.' DSP Media released the first music video teaser for 'Splash – MIRAE 2nd Mini Album' on the official social media of MIRAE at midnight on August 22nd.
The 20-second 'Splash' teaser video is full of the mysterious atmosphere of MIRAE. The teaser video for 'Splash,' which announced a chic start with the cry of a wolf, caught the public's attention with MIRAE's group cut.
MIRAE caught the eye of the fans with a mysterious mood reminiscent of the sea. Also, they included a room full of colorful graffiti. Particularly, their colorful costumes and unique phrases added a unique charm. The title song, 'Splash' spreads on a black background, along with the colorful concepts by each member. So, it ignited the fans' anticipation for their comeback.
The 1st music video teaser for 'Splash' is gathering a hot reaction. So, interest in MIRAE's new style is growing for the 2nd MV teaser for 'Splash,' which they will release on August 23rd.
The title song 'Splash,' the same name as the album, is a hybrid genre song that mixes hip-hop, trap, and R&B.
Particularly, KARD member BM contributed to the songs on this album.
BM also participated in writing the lyrics for the title song, improving the level of perfection.
Kpop group MIRAE will unveil the 'Splash' music video teaser 2 on August 23rd, respectively. Then, on August 24th, one day before their comeback, they will present an album spoiler with previews of all the albums' songs.
In addition, MIRAE will release the second mini-album 'Splash' at 6 pm on August 25th. They will communicate with fans around the world through a comeback VLIVE at 8 pm on the same day.
Read More About: Starship Reveals Plans To Launch A New Girl Group This Year
2021 kpop news
,
2021 kpop updates
,
KPOP
,
Kpop 2021
,
Kpop artist
,
Kpop artists
,
KPOP GROUP MIRAE
,
Kpop idols
,
Kpop latest news
,
kpop latest updates
,
Kpop news
,
Kpop recent news
,
Kpop trend
,
Kpop trending
,
KPop trending news
,
Kpop trending now
,
KPOP2021
,
Kpopall
,
KPOPIDA
,
KPOPNEWS
,
latest kpop news
,
latest kpop updates
,
MIRAE
,
mirae group MIRAE new
,
mirae member
,
mirae members
,
MIRAE news
,
MIRAE SPLASH
,
MIRAE_KILLA
,
MIRAE_Show Champion
,
recent kpop news
,
rookie group MIRAE
,
trending kpop
,
Trending Kpop news
,
trending kpop update
,
trending update kpop