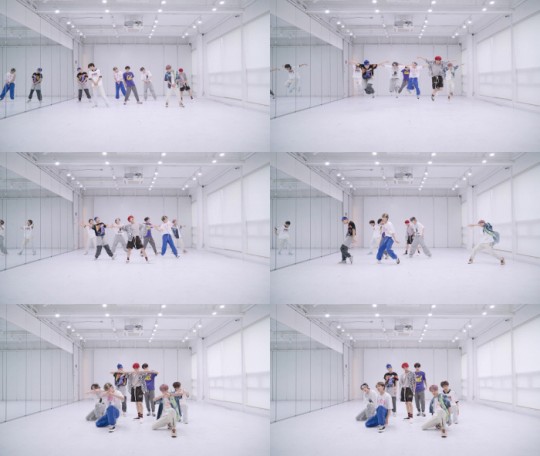 Kpop group MIRAE showed off her choreography like a 'performance master.' On August 26th, the agency DSP Media released a choreography practice video for the title song 'Splash' of the second mini-album 'Splash – MIRAE 2nd Mini Album' through MIRAE's official YouTube channel.
The members wore sporty plain clothes with a refreshing feel and perfectly executed the 'Splash' choreography.
'Splash,' released by MIRAE on August 25th, is a hybrid genre song that mixes hip-hop, trap, and R&B.
The music video contains the members' unique visuals and intense performance. It surpassed 2 million views in just one day after its release and is receiving much attention in Korea and abroad. They raised fans' expectations by previewing a random speed version (10 million views) and High School version (15 million views) choreography videos as an event for the views of the 'Splash' music video.
Kpop group MIRAE first unveiled their 'Splash' performance on Mnet's 'M Countdown' on August 26th. They will meet with global Kpop fans on KBS2's 'Music Bank' on August 27th.
Read More About: Jessica Jung Releases Her New Song 'Can't Sleep' Today!
2021 kpop news
,
2021 kpop updates
,
KPOP
,
Kpop 2021
,
Kpop artist
,
Kpop artists
,
KPOP GROUP MIRAE
,
Kpop idols
,
Kpop news
,
Kpop trend
,
Kpop trending
,
KPop trending news
,
Kpop trending now
,
kpop trending update
,
KPOP2021
,
Kpopall
,
KPOPIDA
,
KPOPNEWS
,
MIRAE
,
mirae group MIRAE new
,
mirae member
,
mirae members
,
MIRAE news
,
MIRAE SPLASH
,
MIRAE_Show Champion
,
rookie group MIRAE
,
Trending
,
trending 2021
,
trending kpop
,
Trending Kpop news
,
trending kpop update
,
trending news
,
trending update kpop