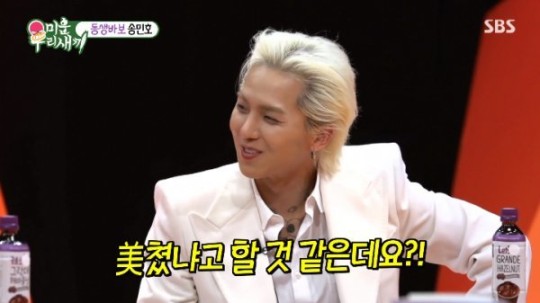 Minho Song is a special host in the SBS entertainment program, 'My Little Old Boy.' He was asked what if his younger sister marries Seungyoon Kang.
WINNER member Minho Song imagined the marriage of his younger sister and Seungyoon Kang.
WINNER Minho Song and Seungyoon Kang were together as special hosts on SBS 'My Litte Old Boy,' which aired on the night of the 2nd.
On this day, Minho Song said, referring to his younger sister, "Because she's my younger sister, I cherish her. My younger sister and I are not always together, but I still took care of her. Often we can't play around like siblings. But I feel worried and try to take care of her from behind. My younger sister likes me very much."
In response, Dongyeop Shin asked, "If your sister brought her boyfriend, who is Seungyoon, how would you react?" As a result, Minho Song said, "I don't want to imagine. It's not because it's Seungyoon. What if the two meet, then break up or have problems? I would have to hear both sides of the story. I don't want to intervene with that." Then he was asked again if his opinion will change what if its marriage rather than dating. He replied, "I will ask them if they are crazy? I don't think I will believe them."
Read More About: PH-1 Will Release A New Single Featuring Jamie
KPOP
,
Kpop artist
,
Kpop artists
,
Kpop idols
,
Kpop news
,
Kpop trend
,
Kpop trending
,
KPop trending news
,
Kpop trending now
,
kpop trending update
,
KPOP2021
,
Kpopall
,
KPOPIDA
,
KPOPNEWS
,
my little old boy
,
sbs my little old boy
,
song minho
,
Trending
,
trending 2021
,
trending kpop
,
Trending Kpop news
,
trending kpop update
,
trending news
,
trending update kpop
,
WINNER
,
winner_song minho