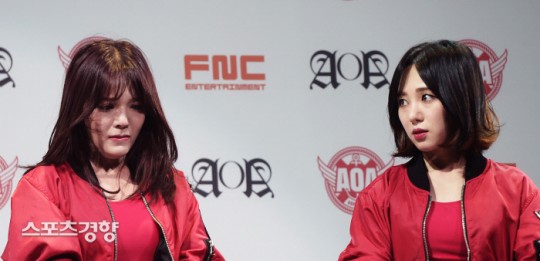 Minah Kwon from AOA, once again expressed her anxiety to some netizens.
On the 3rd, Minah Kwon saw the posts of some netizens on Instagram. These netizens defended Jimin Shin's harassment and denied to believed Minah Kwon's statements.
Minah Kwon said, "It is very cruel. It seems like I need to do extreme choices just after I entered AOA. I am still fainting because of stress and depression. In fact, I still have bruises all over my body."
"I want people like you to feel the suffering I endured for 10 years from people like Jimin Shin. I would rather to be treated as a psychopath. Please don't judge me because I am not treated well. You have never been in my situation nor see or heard everything. You did not experience what I have been through."
Minah Kwon added, "I will say this one more time. The crazy person is Jimin Shin, not me. She had 10 years of anger against people for no reason. Jimin Shin is angry but she never admits it. There is a degree of patience. If you don't know what's really happening, you'd rather ignore it."
Minah Kwon's anger did not go away. She refuted by posting an article defending herself from the accusations of netizens.
She said in the post, "I have suffered countless numbers of sexual assaults, beatings for a dozens of times, swearing, and so on. I already forgave the people who sexually assaulted and raped me. But, why cant I forgive Jimin Shin? That's about what Jimin Shin did to me. For 10 years, I am taking sleeping pills, attempting to make extreme choices, self-harm, crying and sleeping every night. I did all these things because of Shin Jimin."
Earlier, Kwon Minah confessed that she was raped when she was in middle school. It happened while conducting a live broadcast on Instagram on March 7. "The perpetrator is a celebrity that I cannot disclose the name," she said.
In this confession, Minah said, "What does Jimin Shin say that's unfair? She's selfish and enjoy all the things by herself. There is nothing left for me. There is no accommodation nor a private house. She didn't even care whether others sleep or not."
Also, "I can't stand it because it's unfair to accuse me as an offender. I have never asked for sympathy. I am not asking for comfort, but be sure to distinguish between victims and perpetrators."
Finally, she said, "Jimin Shin committed a sin that I could never forgive. I also tried to contact her but she won't answer me. I don't know if she changed her number or what. Raped, being ignored, being assaulted, or even stabbed by a knife is nothing to me than Jimin Shin's sin. 10 years is not short. Please don't look at it easily."
Read More About: AOA Minah Reacts To Bad Comments
AOA
,
AOA BULLYING
,
AOA Jimin
,
Aoa Mina
,
Aoa News
,
AOA_KPOP
,
Bulllying MINA
,
Jimin_MINA
,
KPOP
,
Kpop AOA
,
Kpop artist
,
Kpop artists
,
Kpop idols
,
Kpop news
,
Kpop trending
,
KPop trending news
,
Kpop trending now
,
KPOP2021
,
KPOPIDA
,
KPOPNEWS
,
kwon minah
,
minah
,
minah kwon
,
Trending
,
trending 2021
,
trending kpop
,
Trending Kpop news
,
trending kpop update
,
trending news
,
trending update kpop