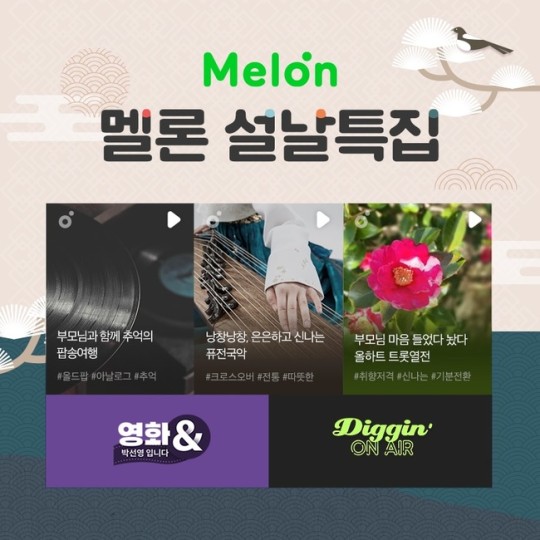 Melon is preparing various content and events so fans can enjoy the five-day Lunar New Year holiday with music.
Melon, a music platform of Kakao Entertainment, will present special content and related events through Melon Station and Melon Magazine. This is to celebrate the upcoming Lunar New Year holiday.
First of all, a special broadcast on New Year's Day will take place on the signboard programs of the original audio content service 'Melon Station.'
'Movie & This is Park Sunyoung' will be out at 10 am on January 28. It is a three-part film series suitable for 'homemakers' during the long holidays. So, take time to enjoy all the music featured in a special Hong Kong movie.
'Diggin' On Air,' hosted by South Korea's leading singer-songwriter Naul and producer and singer Eco Bridge, will unveil a broadcast on January 29 at 7 pm on the theme of good songs to listen to on the holiday's congested roads.
The main screen of the Melon app exposes a variety of playlists tailored to family meetings and holiday concepts. You can create a harmonious holiday atmosphere with playlists such as 'Pop Song of Memories' that you can enjoy with your parents, 'Exciting Fusion Korean Music' with modern elements to traditional Korean music, 'All Heart Trot Fever,' and 'Pop Listening While Preparing to Go Out.'
Read More About: Sejeong Kim Selected As E.Land's 'Roem' New Model!
2022 kpop trending
,
2022 kpop updates
,
2022 latest news
,
best kpop news site
,
breaking news kpop
,
daily kpop news
,
Korean celeb news
,
KPOP
,
kpop 2022
,
KPOP 2022 NEWS
,
Kpop artist
,
kpop celebrity news
,
Kpop chart and news
,
Kpop current news
,
kpop daily news
,
Kpop idols
,
Kpop latest news
,
Kpop news
,
Kpop news articles
,
Kpop news sites
,
kpop news update
,
Kpop recent news
,
Kpop trend
,
Kpop trending
,
KPop trending news
,
Kpop trending now
,
kpop trending update
,
KPOPNEWS
,
Melon
,
MELON MUSIC AWARDS
,
MELON POPCAST
,
rolling stone korea x melon
,
trending 2021
,
trending kpop
,
Trending Kpop news
,
trending kpop update
,
trending news
,
trending update kpop