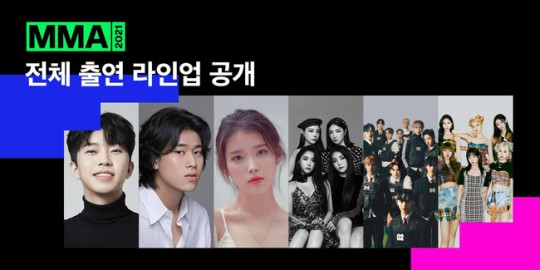 At the Melon Music Awards 2021 (MMA 2021), hosted by Melon, a music platform of Kakao Entertainment (CEO Jinsoo Lee, Sungsoo Kim), all the stars who led the Korean music industry in 2021 will participate.
On December 2, Melon said, "IU, Mujin Lee, Heize, Youngwoong Lim, MSG Wannabe (M.O.M), TOMORROW X TOGETHER (TXT), THE BOYZ, ENHYPEN, Brave Girls, and Stray Kids will appear at MMA 2021, which will open at 6 pm on December 4th."
In addition to IU, Mujin Lee, Heize, Youngwoong Lim, TOMORROW X TOGETHER, THE BOYZ, ENHYPEN, Brave Girls, who swept the charts this year, and STAYC, who released 'ASAP' and 'STEREOTYPE,' will show a richer performance.
This Melon Music Awards 2021 is drawing attention as it reveals a lineup of strong music players.
First of all, IU will once again reach MMA 2021 in four years since MMA in 2017. She will perform her new song 'Strawberry Moon.'
In fact, 'Strawberry Moon' topped the Melon TOP100 upon its release on October 19.
In addition, Mujin Lee, who topped the Melon chart 26 times with his self-composed song 'Traffic Light,' released in May this year, Heize, who boasts overwhelming music power with unrivaled voice and trendy sensibility, and Youngwoong Lim, who reached the top of the chart with a new song as well as a drama OST, will communicate with viewers.
MBC variety show 'Hangout With Yoo' Seokjin Ji, KCM, Jaejoong Park, and Wonstein, members of the music project group MSG Wannabe, will also reunite at MMA 2021 for the first time in half a year to set up the stage of the hot topic song 'Foolish Love.'
Kpop idols' fourth-generation icons, THE BOYZ, TOMORROW X TOGETHER, and ENHYPEN, will have a three-way performance battle at MMA 2021. MMA's stage technology has been creating a legendary stage every year. So, they will surely make a stage where you can enjoy both listening and watching at the same time.
Before the main ceremony, the MMA 2021 pre-show 'MMA-the Record' will take place live for an hour from 6 pm to 7 pm on December 4.
'MMA-The Record,' hosted by announcer Sunyoung Park and comedian Yongjin Lee, will review this year's Melon chart and present MMA2021 TOP10 announcement, winner prediction, and performance spoiler. In addition, they will heat up the festival through surprising records in Melon charts and real-time broadcasts of photo walls.
You can watch the Melon Music Awards 2021 and MMA 2021 pre-show MMA-The Record' on the Melon app and web MMA page in Korea.
Also, you can watch it on Melon Music Awards 2021 channel on Kakao TV and overseas YouTube 1theK channel, MUSICON! TV (Japan), dTV (Japan), JOOX (Hong Kong, Thailand, Malaysia, Indonesia), and My Music (Taiwan).
Read More About: IVE, Debut Showcase Successfully Completed!
actress IU
,
After We Ride
,
ASAP
,
best Kpop girl group
,
best kpop news site
,
best kpopstar
,
Brave girls
,
Brave Girls members
,
breaking news kpop
,
changmo
,
Chi Mat Ba Ram
,
daily kpop news
,
Fandom
,
Foolish love
,
Hip-hop Idol JIN
,
IU
,
IU news
,
iu songs
,
iu tv
,
IU updates
,
iu works
,
Jaejung Parc
,
Jieun Lee
,
Jin
,
JIN news
,
Jungmin Kim
,
JUYEON
,
Korean celeb news
,
Korean singer
,
Korean singer songwriter
,
KPOP
,
Kpop album
,
Kpop beauty routine
,
Kpop boy group
,
Kpop Brave Girls
,
kpop celebrity news
,
Kpop chart and news
,
Kpop colllaboration
,
KPOP comeback
,
Kpop current news
,
kpop daily news
,
Kpop fashion
,
Kpop girls group
,
Kpop group STAYC
,
kpop group THE BOYZ
,
kpop idol JIN
,
Kpop idols
,
Kpop issues
,
Kpop IU
,
Kpop latest news
,
kpop MSG Wannabe
,
Kpop music chart
,
Kpop news
,
Kpop news articles
,
Kpop news sites
,
kpop news update
,
Kpop recent news
,
Kpop skin care routine
,
Kpop skincare routine
,
kpop stayc
,
KPOP THE BOYZ
,
KPop trending news
,
KPOPNEWS
,
MOM
,
msg wannabe
,
msg wannabe MOM
,
MSG Wannabe project
,
MSG Wannbe group
,
MSG Wannbe JDSK
,
NEW
,
Rollin
,
simon dominic
,
singer IU
,
Singer JIN
,
South Korean singer songwriter
,
Star To A Young Culture
,
StayC
,
STAYC debut
,
STAYC members
,
STAYC news
,
STAYDOM
,
SUKJIN JI
,
summer queen
,
the best kpop girl group
,
the best kpop girl group of 2021
,
the best kpop group of 2021
,
the boyz
,
THE BOYZ members
,
THE BOYZ NEWS
,
the top kpop group
,
THRILL RIDE
,
THRILL-ING
,
top kpop boy group
,
top kpop girl group
,
We Ride
,
WONSTEIN
,
Yuna